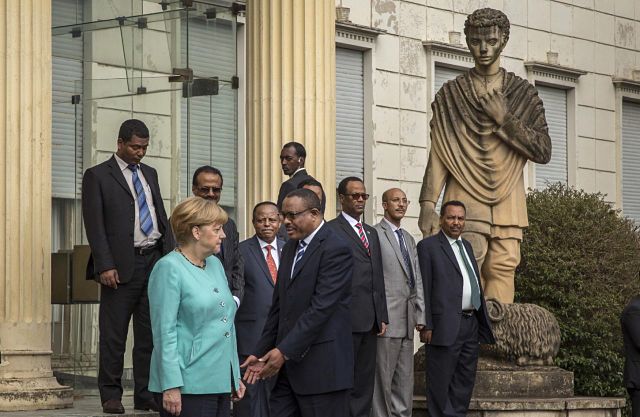 Tue Oct 11, 2016
ADDIS ABABA — German Chancellor Angela Merkel urged Ethiopia on Tuesday to open up its politics and ensure police do not use heavy-handed tactics against protesters, after more than a year of unrest that rights groups say has led to about 500 deaths.
Merkel, who spoke at a news conference with Prime Minister Hailemariam Desalegn, arrived in Ethiopia after a fresh flare-up near the capital of the clashes that have cast a shadow over a nation with one of Africa's fastest-growing economies.
The violence prompted the government to declare a nationwide state of emergency on Sunday. It says the death toll cited by rights groups is exaggerated and blames the wave of violence on "armed gangs" backed by foreigners.
The United States expressed concern on Tuesday about the state of emergency. State Department spokesman John Kirby said measures that restore order but deprive people of rights like freedom of speech and assembly were a "self-defeating tactic that exacerbates rather than addresses the grievances."
Kirby said the U.S. administration encouraged the Ethiopian government to take action on land rights, electoral reform and other issues raised by the protesters, as suggested by President Mulatu Teshome Wirtu in a speech on Monday.
"We're obviously very concerned," Kirby said. "We encourage the government to act decisively on those proposals."
Western states, which are among the biggest donors to what is still a poor nation, want their companies to win deals in Ethiopia but have become increasingly concerned by the government's authoritarian approach to development.
"I made the case that you should have open talks with people who have problems," Merkel told Hailemariam, adding that police should respond proportionately to protests.
—
Related:
Angela Merkel Signals Support for Ethiopia's Protesters in Visit (AP)
Ethiopia: Foreign Investors Warily Eye Crackdown – The Wall Street Journal
Ethiopia Put Under State of Emergency (AP)
In Ethiopia Protesters Attack Factories, Eco Lodge and Flower Farms
American Killed in Ethiopia Identified as UC Davis Researcher Sharon Gray
U.S. citizen killed, foreign factories attacked in Ethiopia
US Says Female American Citizen Killed in Ethiopia Amid Protest
After Ethiopia Irrecha Tragedy, Renewed Calls on U.S to Take Stronger Measure
Ethiopia Protests Continue Over Fatal Bishoftu Stampede at Irrecha Festival
Join the conversation on Twitter and Facebook.