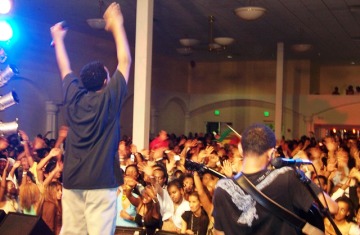 Above: Teddy Afro performing at the Rosewater Hall in San
Jose, California on January 20th, 2007. (Photos by D.J. Fitsum)
Click here to see hot shots.
Capital Ethiopia
By Muluken Yewondwossen
Tewodros Kassahun, a.k.a Teddy Afro has started his defense in the Federal High Court 8th Criminal Bench against a hit and run charge on Thursday, October 9, 2008.
His lawyer Million Assefa presented 14 witnesses and 10 documents in evidence to explain Teddy's innocence of the charge.
On Thursday's session 8 witnesses appeared with seven giving testimony. The 14th witness, who came from Minilik II Hospital, did not testify after the objection of the prosecutor over the translator's accuracy, as the witness is Cuban. The Court ruled to bring aother translator for the next trial. The 14th witness was also presented as the prosecutor's witness.
Three witnesses, his friends, explained that Teddy was with them at the time he was accused of killing a young man near the National Palace at around 1 AM in November 2006. Read more at Capital Ethiopia.