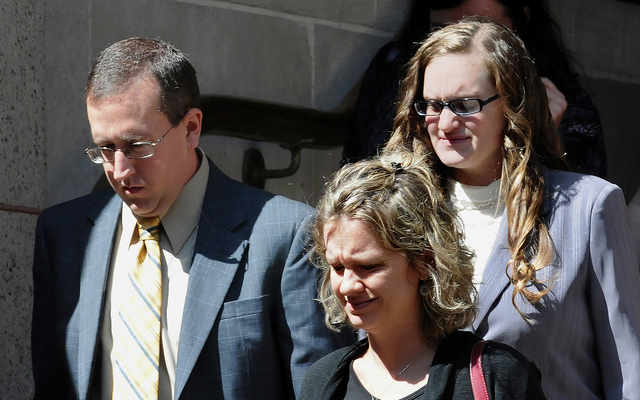 By Paula Reed Ward
A member of the Allegheny County Children, Youth and Families advisory board is organizing an event Friday to protest what she considers a lenient sentence for a former Franklin Park couple accused of abusing their adopted Ethiopian children.
"My personal calling is advocating for the most vulnerable children," said Joanna Huss, who runs a public relations firm.
She is angry about the sentences received by Douglas and Kristen Barbour, who prosecutors said withheld food from the 6-year-old boy they adopted and forced him to lie in his own urine, and allowed the 1-year-old girl, who ultimately sustained a brain injury, to remain untreated for fractures she suffered.
The couple pleaded no contest to endangering the welfare of children. Douglas Barbour pleaded to two misdemeanor counts, with an agreement with prosecutors for a sentence of probation. Kristen Barbour pleaded to two felony counts, and her sentence was left up to the court.
Allegheny County Common Pleas Judge Jeffrey A. Manning ordered Douglas Barbour to serve five years' probation and sentenced his wife in the standard recommended guideline range — originally setting the penalty at six to 12 months alternative housing. But her attorney, Robert E. Stewart, filed a motion for reconsideration, saying that if she were forced to serve that sentence there would be no one at home to care for the couple's two biological children because her husband works.
On Friday, the judge modified the sentence, requiring Kristen Barbour to serve her sentence at the Mercer County jail, but with work release. She will be allowed to leave the jail five days a week to go home and care for her children but report back each night.
Ms. Huss said she felt sickened by the sentence imposed. The protest at noon on Friday in the Allegheny County Courthouse courtyard is designed to bring attention to sentencing guidelines in Pennsylvania for crimes against children, generally, and to what she feels is an "injustice" in the Barbours' case, specifically.
Amie Downs, a spokeswoman for county CYF, had no comment.
The protest is being conducted in Huss' role as a private citizen, she said.
"I want people who have read about this to stand up," Ms. Huss said. "Children who are abused — if there is a light sentence for the perpetrator, it's no deterrent.
"It sends a message that we as a society don't care."
Read more news at Pittsburgh Post-Gazette »
—
Join the conversation on Twitter and Facebook.