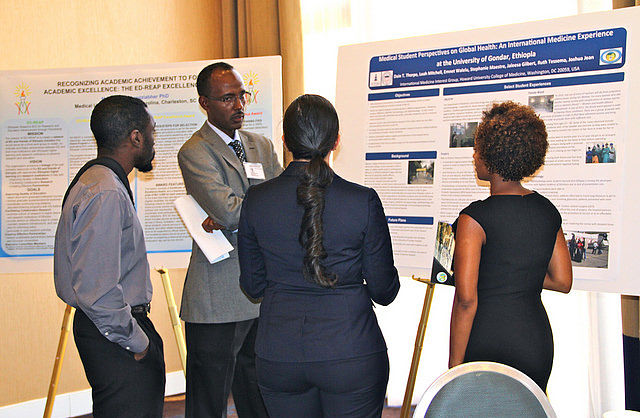 Tadias Magazine
By Tadias Staff
Published: October 20th, 2018
New York (TADIAS) — Since its founding in 1999 People to People Inc. (P2P), a U.S.-based network of Ethiopian Diaspora healthcare professionals, has been the prime example of how "the Diaspora can be the bridge to transfer knowledge, technology and experience."
This weekend in Arlington, Virginia P2P is hosting its 10th global conference on health care & medical education in Ethiopia. The theme of this year's conference is "the growing burden of cardiovascular diseases in Ethiopia."
Speakers include Ethiopia's new Minister of Health, Dr. Amir Aman. "Dr. Aman is a physician by training, and a dedicated public health official," the announcement notes. "He has served as a medical practitioner for many years in rural Ethiopia. Prior to his current position, Dr. Aman served as the Director of Human Resources and Development Directorate, Plan and Policy. In addition, he played a major role as a Finance Director General of MOH."
Below are additional featured speakers courtesy of the conference website:
Anthony K. Wutoh, Ph.D., R.Ph
Anthony K. Wutoh, Ph.D., R.Ph. is the Provost of Howard University. He previously served in various roles at the University including as Dean of the College of Pharmacy and Assistant Provost for International Programs. Dr. Wutoh has also served as Director for the Center for Minority Health Services Research, and the Center of Excellence.
Anteneh Habte, MD
Dr. Anteneh Habte is currently serving as Chairman of People to People's (P2P) Board of Directors. He is the Medical Director of the Community Living Center at the Veterans Affairs Medical Center in Martinsburg, WV and clinical faculty at both the West Virginia School of Medicine and the Lewisburg School of Osteopathic Medicine. Dr. Anteneh is a diplomat of the American Board of Internal Medicine and the American Academy of Hospice and Palliative Medicine, and a certified educator of palliative and end-of-life care (EPEC). He coordinates People to People (P2P)'s effort to promote the training of medical personnel and provision of clinical services in hospice and palliative care in Ethiopia. Dr. Anteneh is one of the editors of a series of web-based modules in hospice and palliative care for Ethiopia prepared under the auspices of the Mayo Clinic Global HIV Initiative. He is also a contributor to P2P's recently published 'Triangular Partnership' manuscript.
Asefa Mekonnnen, M.D., F.C.C.P
Dr. Mekonnen is a pulmonologist and sleep specialist currently practicing in Maryland. He attended Addis Ababa University in Ethiopia for medical school. He completed his internal medicine residency training at the University of Illinois, and pulmonary and critical care fellowship training at Northwestern University. He then pursued post-doctoral studies in Clinical and Behavioral Sleep Medicine at Stanford University School of Medicine. His current focus is in the field of sleep medicine. Dr. Mekonnen is Founder and Director of the Premier Sleep Disorders Center, an AASM accredited center. He has managed and supervised more than 10,000 sleep studies. A frequent speaker in the area of Sleep Medicine and Sleep Disorders, he has delivered more than 100 invited lectures.
Ayalew Tefferi, M.D
Dr. Tefferi is a Professor of medicine, and world renowned hematologist currently practicing at the Mayo Clinic in Rochester, MN. He went to medical school at the University of Athens in Greece. He completed his internal medicine residency training at St. Joseph's hospital in Chicago and hematology fellowship training at the Mayo Clinic in Rochester, MN. His research involves clinical and laboratory research in myeloid disorders. He has had over 1000 publications in peer reviewed journals and serves as the associate or section editor for the Mayo Clinic Proceedings, Leukemia, American Journal of Hematology, European Journal of Hematology, and Hematological Oncology. He is also in the editorial board of several other journals. Dr Tefferi has given more than 700 national and international invited lectureships and serves as faculty for the annual Hematology and Oncology Board review courses at George Washington University in Washington DC, Cancer Medicine and Hematology offered by Harvard institutes in Boston MA, and MD Anderson Cancer Center in Houston TX.
Bisrat Hailemeskel, MSc., Pharm.D., R.Ph.
Dr. Bisrat Hailemeskel is a full-time faculty at the rank of Associate Professor, Vice Chair, & Co-Director of International Grants in the College of Pharmacy, Howard University (HU). He received his B.Pharm, MSc (Addis Ababa University (AAU)), and Doctor of Pharmacy Degree (University of Toledo, Ohio). Dr. Hailemeskel was the recipient of 2007 -2008 Fulbright Scholarship as teacher/research fellow, a distinguished Award from the US Department of States, to teach and conduct research in Ethiopia. In 2010, he was also received the "Outstanding Faculty" Award from HU Alumni Association. As a principle Investigator, he has also received a multi-year grant for the "HU-AAU Twinning Partnership" project to promote pharmaceutical care education in Ethiopia from the American International Health Alliance and the U.S. President's Emergency Plan for AIDS Relief. Dr. Hailemeskel awarded to become a Fulbright Visiting Professor by the US State Department since 2014. Dr. Hailemeskel is well published with over 50 research papers
Dawd S. Siraj, M.D., MPH&TM, FIDSA
Dr. Dawd S. Siraj is a Professor of Medicine, and an infectious disease physician at the University of Wisconsin. He received his medical degree from Jimma University in Ethiopia. He completed his internal medicine residency training at St. Barnabas Hospital Bronx, NY. He subsequently completed an Infectious Diseases fellowship and a Master of Public Health and Tropical Medicine, at Tulane University, in New Orleans, Louisiana.. He currently serves as the Vice President and Board Member of Ethio- American Doctors Group, Inc and People to People (P2P). He has actively participated in numerous Infectious Diseases and HIV activities in Ethiopia.
Elias S. Siraj, M.D., Dr. Med., FACP, FACE
Dr Siraj is currently Professor and Chief of Division of Endocrine & Metabolic Disorders at Eastern Virginia Medical School (EVMS), Norfolk, VA. He is also David L. Bernd Distinguished Chair for Cardiovascular and Diabetes Research, Director of Strelitz Diabetes Center and Director of the EVMS-Sentara Cardiovascular Diabetes Center. Dr. Siraj started as a Faculty first at the Cleveland Clinic and later moved to Temple University in Philadelphia where for many years he carried various leadership roles including Director of Diabetes Program and Director of Endocrine Fellowship Program. Over the years, Dr. Siraj has been involved in Global Medicine activities and has been traveling to Ethiopia every year as a Visiting Professor, teaching residents, fellows and medical students as well as conducting collaborative clinical research projects. In collaboration with others, he was instrumental in successfully establishing the first Endocrine Fellowship training program in Ethiopia. In addition, Dr Siraj has served in various leadership roles at "People to People", a US based NGO established by Ethiopian Physicians to support Ethiopian Healthcare and Medical Education. For his active role in Ethiopia, he received the prestigious Outstanding Service Award for the Promotion of Endocrine Health of an Underserved Population from the American Association of Clinical Endocrinology in 2014.
Enawgaw Mehari, MD.
Dr. Enawgaw Mehari is a Senior Neurologist at Kings Daughter Medical Center in Kentucky and founder of People to People USA (P2P). He founded P2P at the end of his residency training and has since expanded the services of P2P, including opening the People's Free Clinic in Morehead, KY, in 2005 for the working poor who have no health insurance.
Jignesh Shah, M.D
Dr. Jignesh Shah is a cardiologist with sub-specialty training in cardiac electrophysiology from Boston's Beth Israel Deaconess Medical Center. His interests include arrhythmia care, pacemaker implant and cardiac ablations. Dr. Shah is board certified in internal medicine, cardiovascular diseases and clinical cardiac electrophysiology. He is currently overseeing cardiology fellowship training in several medical schools in Ethiopia.
Melaku Demede M.D., MHSc, FACC, FSCAI
Dr. Melaku Demede graduated from AAU faculty of Medicine in 1995 and completed internship, residency and fellowship from SUNY Downstate Health Science Center Brooklyn, NY. Had done Post graduation from Victoria University of Manchester in MHSc Epidemiology and Biostatistics. Currently, He is Chief of Cardiology and Medical Director of Cardiac Cath Lab in ARH Beckley, WV. Assistant Professor of Internal Medicine West Virginia University School of Medicine, Assistant Professor of Internal Medicine UK community Faculty, WVU DO School and Lincoln Memorial University School of Medicine. Board Certified in Intervention Cardiology, Cardiovascular Medicine, Internal Medicine, Echocardiography and Nuclear Cardiology.
Mulugeta Gebregziabher, M.D
Dr. Mulugeta Gebregziabher is Professor and Vice Chair in the Department of Public Health Sciences at MUSC. His research expertise is in longitudinal data analysis, multiple outcomes research, and analysis of very large datasets from electronic medical records. He is secretary of ED-REAP (501(c3)) and has served as President of the Statistical Society of Ethiopians in North America and President of the South Carolina Chapter of the American Statistical Association.
Henock G. Zabher, M.D., MPH, FACC, FSCAI
Dr. Henock G. Zabher is an associate Professor of Medicine/ Interventional Cardiology at Louisiana State University Health Sciences Center in Shreveport, Louisiana. He received his medical degree from Jimma University in Ethiopia. He subsequently obtained his Masters of Public health (MPH) from Tulane University School of Public Health and Tropical Medicine. He completed internal medicine residency and cardiology fellowship at Louisiana State University Health Sciences Center (LSUHSC). He completed subspecialty training in Interventional Cardiology at the University of Arkansas for Medical Sciences. He is the First Cardiologist to perform percutaneous coronary intervention in Mekelle hospital, Ethiopia and help to initiate a coronary intervention services in the hospital.
Kebede H. Begna, M.D., Msc.
Dr. Kebede H. Begna an assistant professor and consultant haematologist, practicing at the Mayo Clinic in Rochester, MN. He received his medical degree from Gondar University in Ethiopia. . He finished internal medicine residency at St. Vincent Medical College, an affiliate of New York Medical College, where he was the Chief Resident. He completed hematology and medical oncology fellowship and obtained Masters in clinical research at the University of Minnesota, and later joined the Mayo Clinic, Division of Hematology in Rochester, Minnesota. He authored and co-authored many publications and book chapter. He currently serves on the board of Ethio-American Doctors Group, Inc.
Lekidelu Taddesse-Heath, MD
Dr. Taddesse-Heath is an Associate Professor of Pathology at Howard University Hospital and Howard University College of Medicine in Washington, DC. She has led medical student missions to Gondar University Hospital, Ethiopia since 2013.
Lydia Tesfa, PhD
Dr. Lydia Tesfa is a Research Associate Professor in the Department of Microbiology and Immunology at the Albert Einstein College of Medicine. She is the Assistant Operations Director of Flow Cytometry and actively engages in research, education and health care. Dr. Lydia is a Board member of People to People (P2P) and has volunteered her expertise in several projects in Ethiopia.
Meraf Wolle, M.D
Dr. Meraf A. Wolle is an assistant Professor of ophthalmology at the Johns Hopkins Wilmer Eye Institute. She specializes in corneal and external disease, including cataracts, corneal transplants, and refractive surgery. Dr. Wolle received her M.D. degree from the Johns Hopkins Bloomberg School of Medicine and her M.P.H. degree from the Johns Hopkins Bloomberg School of Public Health. Following an internship in internal medicine at The Johns Hopkins Bayview Medical Center, she completed her residency in ophthalmology at the Wilmer Eye Institute. Dr. Wolle completed a fellowship in Cornea and External Diseases at the Kellogg Eye Center at the University of Michigan Ann Arbor prior to joining the Wilmer faculty.
Salahadin Abdi, M.D., PhD
Dr. Salahadin Abdi, is a tenured Professor of Anesthesiology/Pain Medicine and Chair of Department of Pain Medicine at University of Texas MD Anderson Cancer Center in Houston, TX. He completed medical school, his PhD in pharmacology/toxicology, and clinical residency in Anesthesiology and Intensive Care Medicine at University of Münster Medical Center in Germany. After relocating to the United States, he then completed his residency training Anesthesiology at Massachusetts General Hospital in Boston, MA. He is the author and/or co-author of more than 200 manuscripts and abstracts, book chapters and review articles. He is a reviewer for multiple journals. His primary research interests include stem cell and gene therapy for degenerative spine disease and chemotherapy induced painful peripheral neuropathy. His main clinical interest includes low back pain, complex regional pain syndrome, cancer pain, myofascial pain and whiplash injury.
Teferi Y. Mitiku, M.D., FACC
Dr. Mitiku earned his medical degree at UCLA, and he then completed his residency at Stanford University, followed by a fellowship in cardiovascular disease and electrophysiology at Yale New Haven Hospital. He has served as the Director of the Complex Ablation Program at Wayne State University School of Medicine. Currently he is an Assistant Clinical Professor of Medicine and Director of Electrophysiology at University of California Irvine in Orange County, CA.
Tinsay A. Woreta, M.D., M.P.H
Dr. Tinsay A. Woreta is an assistant professor of medicine and a gastroenterologist/hepatologist at Johns Hopkins University school of medicine.. She received her medical degree, internal medicine residency, and gastroenterology/transplant hepatology fellowship from Johns Hopkins University. She specializes in acute and chronic liver diseases, and has authored many publications and book chapters.
Yonas E. Geda, M.D.
Dr. Yonas E. Geda is a Professor of Neurology and Psychiatry. He is a Consultant in the Department of Psychiatry & Psychology, and Department of Neurology, Mayo Clinic. Following a formal search process, Dr. Geda was recently named Associate Dean for Diversity and Inclusion for all the 5 colleges/ schools at the Mayo Clinic College of Medicine and Science. Dr. Geda earned his doctor of medicine (M.D.) degree from Addis Ababa (Haile Selassie) University, and subsequently pursued his trainings in Psychiatry, Behavioral Neurology, and a Master's of Science (MSc) degree in biomedical sciences at Mayo Clinic in Rochester, Minnesota. His research examines the impact of lifestyle factors and neuropsychiatric symptoms on brain aging and mild cognitive impairment. He has published over 115 peer reviewed papers in major journals including in Neurology, JAMA Neurology, JAMA Psychiatry and American Journal of Psychiatry. Dr. Geda has several institutional, national and international leadership roles. He is a member of the Science Committee of the French Alzheimer's research group (Groupe de Recherche sur la maladie d'Alzheimer; GRAL). He is the current chair of the award committee of the Neuropsychiatric syndromes professional interest area (PIA) of the Alzheimer's Association International Conference (AAIC). He is a recipient of many awards, including a medal from the City of Marseille, France in 2003, and from the City of La Ciotat, France in 2016 for his contributions to the field of Alzheimer's research. As a resident, he won the prestigious Mayo Brother's Distinguished Fellowship Award.
Keith Martin, M.D
Dr. Keith Martin is the founding Executive Director of the Consortium of Universities for Global Health (CUGH) based in Washington, DC. The Consortium is a rapidly growing organization of over 170 academic institutions from around the world. It harnesses the capabilities of these institutions across research, education, advocacy and service to address global challenges. It is particularly focused on improving health outcomes for the global poor and strengthening academic global health programs. Dr. Martin is the author of more than 150 editorial pieces published in Canada's major newspapers and has appeared frequently as a political and social commentator on television and radio. He is currently a board member of the Jane Goodall Institute, editorial board member for the Annals of Global Health and an advisor for the International Cancer Expert Corps. He has contributed to the Lancet Commission on the Global Surgery Deficit, is a current commissioner on the Lancet-ISMMS Commission on Pollution, Health and Development and is a member of the Global Sepsis Alliance.
—
If You Go:
P2P 10th annual Health Care and Medical Education conference
Saturday, October 20th, 2018
Residence Inn Arlington Pentagon City
550 Army Navy Drive Arlington, VA 2220
www.p2pbridge.org
Related:
Watch: 2015 People to People (P2P) Conference Award Ceremony
Join the conversation on Twitter and Facebook.