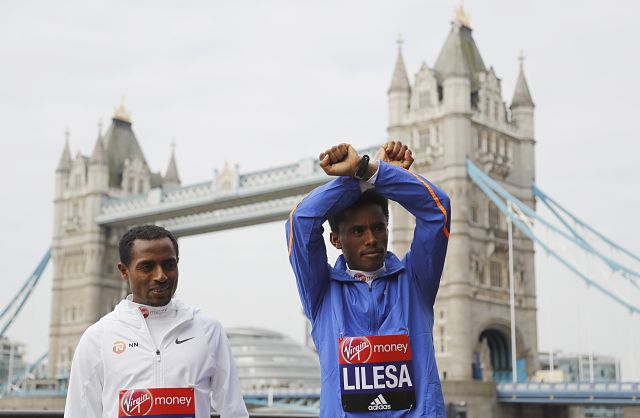 By ELIAS MESERET
Ethiopian Marathoner Who Made Rio Protest Returns From Exile
ADDIS ABABA, Ethiopia (AP) — The Ethiopian marathon runner who made global headlines with an anti-government gesture at the Rio Olympics finish line returned from exile on Sunday after sports officials assured him he will not face prosecution.
Feyisa Lilesa's return from the United States came several months after a reformist prime minister took office and announced sweeping political reforms. He received a warm welcome at the airport from the foreign minister and other senior officials.
Feyisa said the new government is "a result of the struggle by the people" and he hopes it will address concerns after years of repression in Africa's second most populous nation.
The silver medalist crossed his wrists at the finish line in 2016 in solidarity with protesters in his home region, Oromia, who like many across Ethiopia were demanding wider freedoms.
Feyisa later said he feared he would be imprisoned or killed if he returned home. But he became a symbol of resistance for many youth until the pressure on the government led to a change of power, with 42-year-old Prime Minister Abiy Ahmed taking office in April.
Abiy is the country's first leader from the Oromo ethnic group since the ruling coalition came to power 27 years ago.
Ethiopia's government did not immediately comment Sunday on the runner's return.
Asked by The Associated Press if he has any political ambitions, Feyisa said: "I don't have any ambition in politics! Actually I didn't get close to politics, politics gets close to me."
Feyisa broke down in tears while speaking about youth who lost their lives during the years of protests. "I will continue to remember those who lost their lives for the cause. Many people lost their lives for it."
Turning his attention to running, he said his next race will be the Dubai Marathon in January.
"My training while I was in exile was not good, so it has affected my performance," Feyisa said. He missed two races in recent weeks as he prepared to return to Ethiopia. "I will resume my regular training after a week."
—
Join the conversation on Twitter and Facebook.