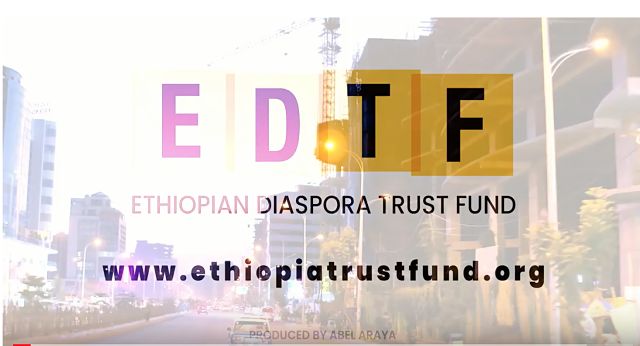 Tadias Magazine
By Tadias Staff
Published: October 21st, 2018
Ethiopian Diaspora Trust Fund to Accept Donations Online
New York (TADIAS) — The Ethiopian Diaspora Trust Fund will start accepting donations through its website, ethiopiatrustfund.org, beginning Monday October 22nd, 2018.
The fund, which is incorporated as a 501(c)(3) non-profit organization, allows donors to make tax-deductible contributions.
Below is the official announcement:
Ethiopian Diaspora Trust Fund
The primary objective of the Ethiopia Diaspora Trust Fund (EDTF), a 501(c)(3) non-profit organization, is to finance people-focused social and economic development projects.
Our Mission:
The EDTF aims to finance projects that meet critical needs selected based on their potential to make the highest positive impact on groups and communities in Ethiopia in areas such as:
★ health
★ education
★ water and sanitation facilities
★ habilitation and rehabilitation of persons with disability
★ agricultural development
★ technology
★ small scale entrepreneurship
★ other income and employment generating projects
The EDTF will give priority attention to projects focusing on youth, women, small holder farmers, small enterprises and entrepreneurs who can be agents of inclusive social and economic development.
Background:
Responding to Prime Minister Dr. Abiy Ahmed's call for action and in support of his message of love, forgiveness, reconciliation, unity and peace, the Ethiopian Diaspora has enthusiastically accepted his challenge and is ready to contribute at least 1 US dollar a day to fund vital unmet inclusive economic and social development projects in Ethiopia.
The Ethiopian Diaspora supports the bold peaceful political democratization reform launched by the Prime Minister and his government with the goal of achieving a durable solution to Ethiopia's socio-political and economic challenges that meets the legitimate aspirations of all of Ethiopians — irrespective of ethnicity, language, religion, and gender — including:
★ A life of dignity, freedom, equality, justice and economic opportunity
★ Equitable and inclusive social and economic development
★ National unity based on peaceful cooperation among Ethiopia's diverse communities
The EDTF Terms of Reference provides the rationale, guiding principles and operating procedures, including the EDTF's governance, project approval, implementation, reporting monitoring and evaluation. The EDTF responds to the Prime Minster's call for action through a funding facility that will enable the Ethiopian Diaspora world-wide to contribute to the improvement of their fellow citizens.
—
Join the conversation on Twitter and Facebook.