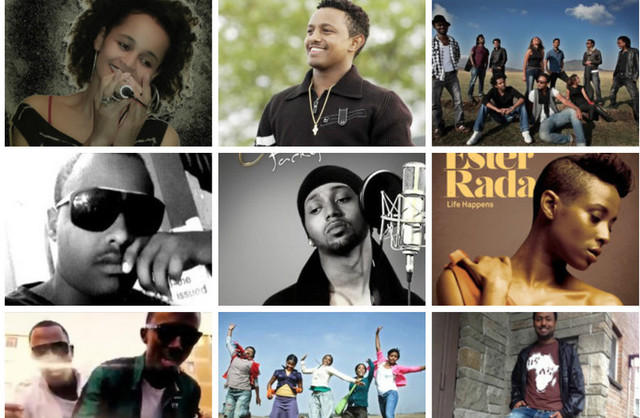 By Marlon Bishop
Electrified lyres. Auto-tuned vocal acrobatics. Undulating digital synths. Extremely funky dance moves, all happening above the shoulders. Those are just a few of the awesome things to expect when you go to see an Ethiopian pop music concert in 2013.
African pop music is steadily gaining exposure abroad as Nigerian afrobeats take over Europe, azonto goes viral and South African rappers get big record deals. Yet up in the Northeast corner of Africa, nothing of the sort is happening. The modern music of Ethiopia is very little known outside the country and its diaspora. That's a shame, because Ethiopian music is amazing and sounds like nothing else on the continent — or in the rest of the world, for that matter.
If Ethiopia sounds different from the rest of Africa, that's because the country is pretty different. It was the center of some of Africa's most powerful historical empires, home to one of the world's oldest Christian communities, and the only African territory (other than Liberia) to stay independent through the colonial era. Ethiopian languages are written in their own cool-looking alphabet. Culturally, it's long been influenced by the Middle East, North Africa and the Indian Ocean as well as the rest of Africa. Chances are you've tried that spongy injera bread once or twice.
Most people familiar with Ethiopian music know it for the "ethio-jazz" sound which thrived in 1970s Addis Ababa, during the final years of Emperor Haile Selassie's reign. Musicians like Mulatu Astatke took American jazz and soul and refashioned it with the eerie, ancient-sounding pentatonic scales of Ethiopian traditional music, with swinging results.The sound has made popular abroad by the 28-disc Ethiopiques series put out by the French Buda Musique label over the last decade. Ethiopiques piqued the interest of beatniks the world over and has inspired a number of revivalist groups, like Daptone Records' Budos Band.
While bands in New York and Tokyo relive the 1970s, Ethiopia has moved on to make pop music for the present day. Those same ancient scales and melismatic vocals are there, but instead of jazz, the tracks are influenced by tinges of synthy funk, reggae and R&B. It's a sound that was developed to a large degree by a guy named Abegaz Shiota, a Japanese-Ethiopian producer who has cut records for virtually every major Ethiopian pop singer over the past few decades. For much of that time, Shiota worked out of the Ethiopian community in Washington DC, where the music scene largely relocated during the military dictatorship years of the 70s and 80s.
"There's a really strong focus on vocals and lyricism," says Danny Mekonnen, leader of the Boston based "ethio-groove" group Debo Band. Mekonnen says he's not crazy about the reliance on digital synth sounds in the musical arrangements, but he thinks there's still a lot to love about Ethiopian pop. "A lot of artists are taking pop music forward by pulling elements from the past, not in a nostalgic way, but honoring the past to create something new."
Unlike many other regions of Africa, where hip-hop and other foreign styles are coming to dominate the soundscape, Ethiopia sticks close to its roots in sound and style. A lot of younger artists are even including the traditional masengo fiddle and krar lyre on the tracks, playing along with the high-flying synthesizers. And while it's true that the production-quality can be a bit chintzy, the success of South African Shangaan electro music and digital-traditional artists like Omar Souleyman has proven that younger "world music" audiences can get into the lo-fi aesthetics of the developing world. If you find yourself able to get down, Ethiopian pop music is hypnotizing and hot all at once.
Read more at MTV IGGY.
—-
Related:
New Album Release: Wayna & Haile Roots to Perform at SOB's in New York
Join the conversation on Twitter and Facebook.