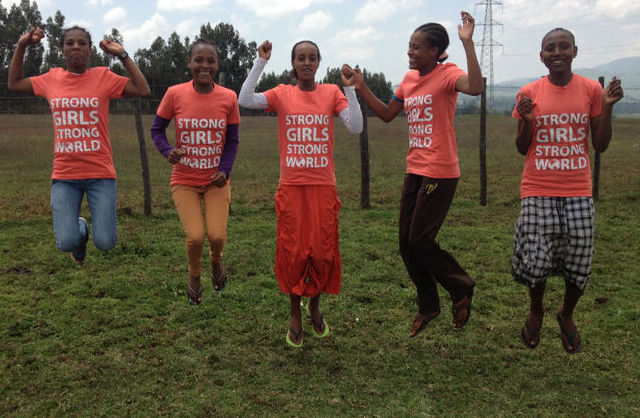 Tadias Magazine
By Tadias Staff
Published: Wednesday, October 23rd, 2013
Washington, D.C. (TADIAS) — Five girls who are being trained by Coach Sentayehu Eshetu in Bekoji, Ethiopia, and sponsored by the D.C.-based volunteer organization Girls Gotta Run Foundation (GGRF), are profiled on Every Mother Counts website, sharing their personal dreams and aspirations for the future.
Bekoji is a small farming town in the Arsi highlands with an astonishing record of developing successful long distance runners. Under the direction of legendary Coach Sentayehu, Bekoji has produced some of the world's greatest athletes, including Olympic medalists Tirunesh Dibaba, Kenenisa Bekele and Deratu Tulu. Some 250 local, young people attend Coach Sentayehu's dawn training sessions every morning.
In a statement GGRF said that it supports the athletic development of six promising female athletes in Bekoji and provides funds for their living expenses as well as travel to important domestic and international races. This support enables the runners to remain in Bekoji while developing their careers at the highest level through strong coaching and the athletic management of Running Across Borders. The athletes are able to live at home with their families, continue their education and contribute to the local community.
The organization is also assisting the training of Bekoji's first female coach. "Coach Fatiya is a 24-year-old runner from a nearby town, Shirka," GGRF said. "She has been training to become a professional marathon runner, but is also interested in becoming a coach because she wants to assist other female athletes in reaching their goals in running. She is being trained by Coach Sentayehu."
Read the profiles at http://www.everymothercounts.org/blog/201310/letters-ethiopia.
—
Related:
Bekoji: Tadias Interview With Filmmakers of 'Town of Runners'
Why Girls Gotta Run: Tadias Interview with Dr. Patricia E. Ortman
Join the conversation on Twitter and Facebook.