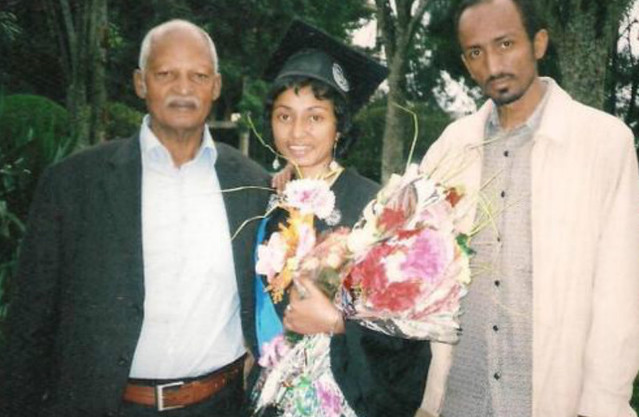 BY AMAN SETHI
"You may be really surprised by our nonsensical imprisonment," Reeyot Alemu wrote in a letter recently smuggled out of a prison in Addis Ababa, "The international community should be aware of the objective reality that we are burdened to live a life which is inexplicable to contemplate, let alone easily engage with."
In 2011, Ms. Reeyot, a schoolteacher, columnist and political activist, was convicted of conspiring to commit terrorist acts across Ethiopia and sentenced to 14 years in prison; her sentence was subsequently reduced to five years. At present she and at least six other journalists remain imprisoned, while at least 49 journalists have fled the country as a consequence of government intimidation according to the Committee for Protection of Journalists (CPJ).
Ms. Reeyot was awarded the UNESCO-Guillermo Cano World Press Freedom Prize in 2013 and the International Women's Media Foundation's Courage in Journalism award last year, Woubshet Taye, sentenced to 14 years, was recently awarded the CNN Free Press Africa award this year, while Eskinder Nega, sentenced to 18 years on terror charges was awarded a PEN America press freedom award in 2012.
The Ethiopian government denies it is stifling free expression, and maintains that the three prisoners have not been targeted for their writings, but rather for associating with terrorists, and have condemned international campaigns demanding their release as an attack on Ethiopia's sovereignty.
"No one convicted by a sovereign nation as a terrorist could be glorified and awarded with awards. That is an insult to the sovereignty of the nation," said Communications Minister, Redwan Hussein in an interview, "They have not been accused for their writings…it is because they were guilty of working with terrorists."
Read more at The Hindu.
—
Related:
Africa's Journalists Honor Jailed Editor Woubshet Taye
The Challenges of Independent Media In Ethiopia: Tadias Interview With Author Ron Singer
Join the conversation on Twitter and Facebook.