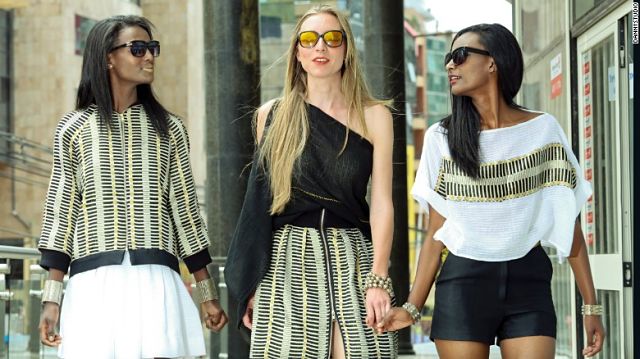 By Pete Kowalczyk
Chencha, Ethiopia — At first glance, Chencha, Ethiopia — an isolated hamlet of bamboo houses situated 300 miles south of the capital of Addis Ababa — doesn't look like it's the center of anything. It certainly doesn't look like a major player on the world's fashion stage. But then, looks can be deceiving.
The town is home to the Dorze people — an ancient community of weaving specialists whose designs have reached catwalks as far afield as New York and Tokyo.
When Tsehynesh Tara, a weaver who originally hails from Chencha, sees pictures of her fabrics on the backs of supermodels, she gets giddy.
"When I first saw the photos I was so excited. I said: 'Did I really make that? Did I make that fabric!?'" she recalls.
Tara is one of several weavers employed by Addis-based fashion designer Mahlet Afework. The 27-year-old designer employs female weavers from Ethiopia's rural areas. In return, weavers teach her about the history of her country and the meaning behind its fabrics.
"Every season I try to tell these stories with my collections — I try to learn more about Ethiopia and its beautiful culture," says Afework.
"It's where we come from, it's in our blood."
Mahlet Afework started her career as a model and rap artist before shifting to fashion. Self-taught via Google and YouTube videos, she's gone on to collaborate with cult UK designer Markus Lupfer and has exhibited at London college of fashion. In a TED talk last year she told a global audience that Ethiopian fashion is not just about paying homage to its ancestors — it can actually lift women out of poverty. "In Ethiopia we have more than 500 underemployed female weavers in each village. We have a responsibility to give them a job — and then show their work to the world."
—
Join the conversation on Twitter and Facebook.