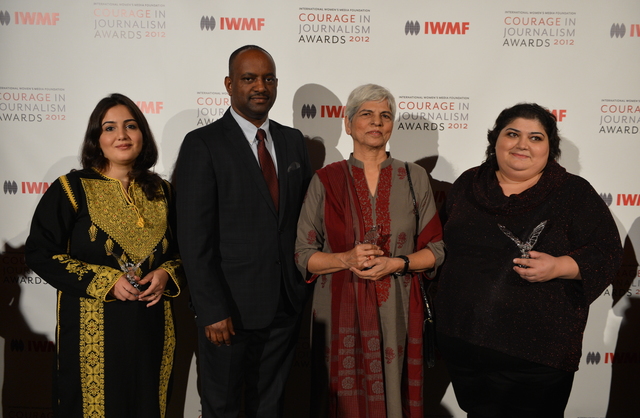 Tadias Magazine
By Tadias Staff
Updated: Monday, October 29, 2012
New York (TADIAS) – Several years ago in Addis Ababa, when a young, idealistic woman named Reeyot Alemu, who was working as a high school English teacher, began contributing part-time to local independent newspapers and writing mostly opinion articles that were critical of various government policies, she knew that she could potentially upset those in power. Reeyot, however, had no idea that her courage would one day earn her prestigious international recognition, albeit while in Kality prison.
Reeyot, now 31, is currently serving a five-year term on terror charges, and was among four women who where honored last week by the International Women's Media Foundation for their courageous work in journalism. Reeyot, a former columnist for the the publications Awramba Times (now in exile and online) and the Amharic weekly Feteh (now blocked), was given the 2012 "Courage in Journalism" award at a ceremony held in Manhattan on Wednesday, October 24th.
"When I nominated Reeyot for the Award, I wanted to show the face of courage in her, so that girls in our country will not be discouraged from becoming a voice to the voiceless," said Elias Wondimu, who accepted the award on her behalf and read a letter penned by her for the occasion.
"When I became politically aware, I understood that being a supporter or member of the ruling party is a prerequisite to living safely and to get a job," Reeyot wrote in a letter sent from prison. "I knew I would pay the price for my courage and was willing to pay the price."
Mohammed Ademo, a New York-based freelance journalist, who is the Co-founder and Editor-In-Chief of OPride.com, as well as a graduate student at Columbia University, attended the luncheon and covered the ceremony for the Columbia Journalism Review.
"I thought the event was great. The courageous journalists honored here today inspire all of us who are in the business of storytelling," Ademo told Tadias Magazine. "These are but few of those brave souls who are committed to exposing corruption, informing the public, and holding autocratic regimes accountable, often at a great personal peril." Ademo continued: "This award means so much to journalists like Reeyot Alemu, who are silenced for simply speaking truth to power."
In his widely publicized interview with Voice of America last month, Prime Minister Hailemariam Desalegn took a hardline stance on the subject, strongly defending the continued imprisonment of a number of journalists. "Our national security interest cannot be compromised by somebody having two hats," PM Hailemariam said, echoing the official claims, which accuses the prisoners of being "double-agents" for terrorist organizations. "We have to tell them they can have only one hat which is legal and the legal way of doing things, be it in journalism or opposition discourse, but if they opt to have two mixed functions, we are clear to differentiate the two," the PM told VOA's Peter Heinlein.
"How on earth can we compare a person who criticizes a government's policy through writing and accuse them of being terrorists?" Elias asked.
Ademo said: "Reeyot's only crime is carrying out her journalistic responsibility, being a voice for the voiceless. I wish her good health, perseverance, and peace of mind."
Elias added: "Due to lack of proper training, our journalists are not and can not be perfect, but the way to remedy this should not be criminalizing their perceived mistakes, but to correct and educate them."
Reeyot's former colleague, the award-winning exiled journalist Dawit B. Kebede – Managing Editor of Awramba Times, said, for him, the award is personal. "I am very happy for Reeyot and for many reasons," Dawit said in a phone interview. "But the number one reason is because Reeyot deserves it. This award is an important recognition not only of Reeyot's personal struggles, but it is also a way to inspire young people to understand the unfairness of silencing those with critical voices." Dawit added: "It also encourages those that are incarcerated along with her, including my friend Wubishet Taye, Deputy Editor of Awramba Times, and Eskinder Nega."
Dawit pointed out that Wubishet had applied for pardon at the same time as the recently released two Swedish journalists, Johan Persson and Martin Schibbye, but was not granted similar clemency. "In my opinion, it was the most discriminatory and shameful pardon process," Dawit said. "As an Ethiopian it is embarrassing to bypass your own people because they happen not to be backed by powerful Western influence. So the foreigners receive forgiveness, but not the Ethiopians."

Reeyot Alemu, recipient of the 2012 Courage in Journalism Award. (Photo: International Women's Media Foundation)
Regarding Reeyot, Mohamed Keita, Africa Advocacy Coordinator for the New York-based Committee to Protect Journalists (CPJ), said this Ethiopian is now part of an exclusive club of extraordinary women whose life stories are seen as role models for young people around the world. "With the IWMF award, the world's leading women journalists are embracing Reeyot Alemu as one of their own," Keita said. "The Courage in Journalism award validates Reeyot's legitimate right to write critically about her government and its policies, as she did, and recognizes not only the injustice of her imprisonment but her improbability as a terrorist suspect."
For former judge Birtukan Midekssa, who is currently the Eleanor Roosevelt Fellow at Harvard University Law School with a joint appointment at W.E.B. Du Bois Institute, Reeyot is both a friend and an inspiration.
"It took me only a short while to get fascinated by her defiant spirit and her determination to be true to herself — both as journalist and as a responsible citizen — after I came to know my good friend Reeyot," Birtukan said. "It is obvious that she did not commit any offence that could lead to lock her up except saying no to the menace of EPRDF government to silence her journalistic voice while it intensifies its forceful coercion against Ethiopian citizens." She added: "She fiercely opposed the unacceptable authoritarianism which pervades the political sphere; she criticized the officials for incarcerating political prisoners including myself; she shed light on unaccountable and irresponsible transactions of the government."
Birtukan said it is particularly striking to her that Reeyot knew in advance what she was getting into. "But she chose to bear the consequence instead of refraining from freely expressing herself," she said. "Though it is enormously painful for me to see her young life confined by illegitimate use of government power."
Birtukan added: "Her persistence, strength, courage and the international recognition she earned as a result, lead me to have more faith in Ethiopian youth that they will take charge of the destiny of our nation to eventually lead it to free and prosperous life."
Government officials maintain all the jailed journalists have broken the law and are guilty of the crimes under which they were convicted.
Meanwhile, IWMF noted it's concerned about Reeyot's health. "Recently, she has fallen ill; in April of this year she underwent surgery at a nearby hospital to remove a tumor from her breast," the organization said.
—
Related:
L.A. Times November 1, 2012: Reporter jailed in Ethiopia among women journalists honored in Beverly Hills, California.
Azerbaijan, Gaza, Ethiopia Women Win Media Awards (AP via ABC News)
Portraits Of Courage: Female Journalists Honored At International Women's Media Foundation Awards (The Daily Beast)
—
Click here to join the conversation on Facebook.