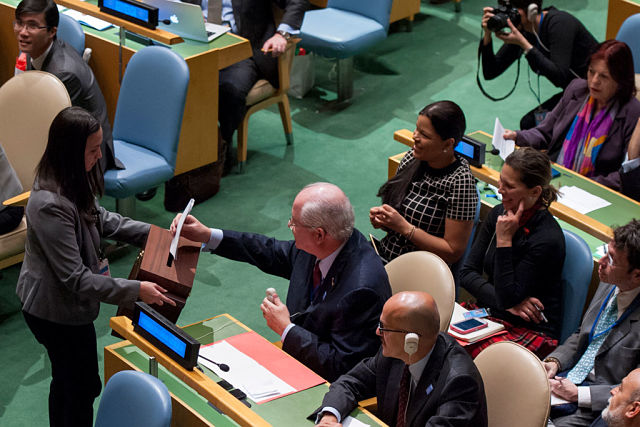 BY LUCY WESTCOTT
A number of countries criticized by rights groups for serious human rights abuses against their citizens were elected to the United Nations Human Rights Council in Geneva on Wednesday, weeks after a Saudi Arabian representative was elected head of a key human rights panel amid international outcry.
Eighteen countries—Belgium, Burundi, Ivory Coast, Ecuador, Ethiopia, Georgia, Germany, Kenya, Kyrgyzstan, Mongolia, Panama, Philippines, Republic of Korea, Slovenia, Switzerland, Togo, United Arab Emirates and Venezuela—were elected by the U.N. General Assembly on Wednesday for three-year terms on the council, which begin on January 1, 2016. The Human Rights Council is "responsible for strengthening the promotion and protection of human rights around the globe and for addressing the situations of human rights violations and making recommendations on them," the U.N. said in a statement released Wednesday.
U.N. Watch, a Geneva-based group that monitors the U.N, said it considers only nine of the 21 countries that were candidates for election to the council as eligible, based on their human rights record. A number of the countries elected, including Burundi, Ethiopia and the United Arab Emirates, have authoritarian regimes. Human rights records of other elected countries include violence against women, human trafficking and limits on freedom of expression and assembly, U.N. Watch said in a report published ahead of the elections on Wednesday.
—
Related:
General Assembly elects 18 members to UN Human Rights Council (UN News)
Join the conversation on Twitter and Facebook.