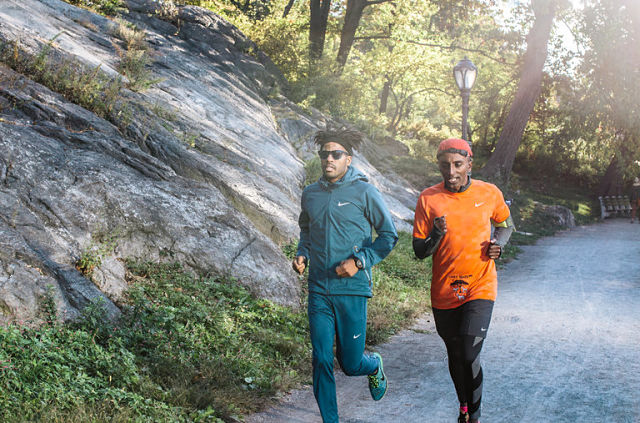 By JEANINE CELESTE PANG
This Sunday, some 50,000 international runners will cross the finish line at the New York City Marathon. Marcus Samuelsson, the Ethiopian-born, Swedish-raised New Yorker who has cooked for everyone from Cindy Crawford to Barack Obama, plans to be one of them. For the past two months, the Michelin-starred chef has been training with Nike+ Run Club coach Knox Robinson, running the 6.1-mile Central Park loop. He uses the northernmost tip of the park as home base — just a quick sprint from his lauded restaurant Red Rooster and closer yet to the $3 million Harlem townhouse he shares with his model-slash-philanthropist wife, Maya Haile.
"Here's some real history," Samuelsson, 45, told Robinson on a sunny afternoon earlier this week, gesturing towards two towers looming above Malcolm X Boulevard. "The Central Park Five lived right there in the late '80s. And now, when I run in here and see families — that's progress. It's not just some la la."
Robinson laughed. "I came in here, I was just trying to talk about running and make sure his shoes were tied the right way, and he just goes off. We kind of have a vibe of our own —"
Read more at The New York Times »
—
Related:
Photos: Advanced Screening of CNN's "Parts Unknown: Ethiopia" with Marcus Samuelsson
Advanced Screening of "Parts Unknown: Ethiopia" with Marcus Samuelsson
Marcus & Maya Samuelsson Join Chef Bourdain's Ethiopia Feature on CNN
Join the conversation on Twitter and Facebook.