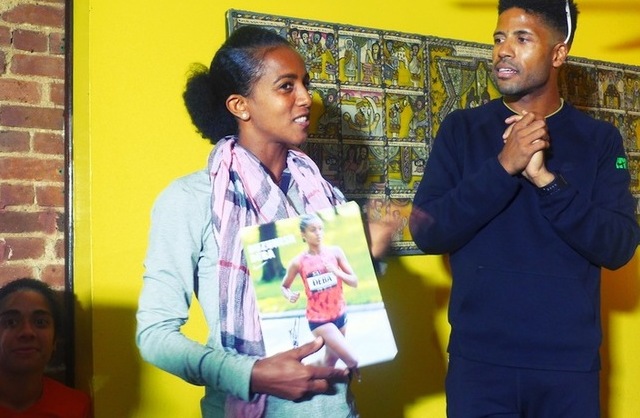 Tadias Magazine
By Tadias Staff
Published: Friday, October 31st, 2014
New York (TADIAS) – "I usually ask a question about pizza because it's New York," said Knox Robinson, Coach for Nike + NYC, speaking at a gathering at Queen of Sheba Restaurant on Thursday evening after their local run. But tonight Buzunesh Deba had joined them in a surprise visit and Robinson modified his question amid cheers on her arrival: "What do you eat before and after a race?"
"Before the race.. one bagel and one banana," The Bronx-based, Ethiopian-born athlete answered. "After the race spaghetti with chicken.. and of course especially Injera."
"We are overjoyed, honored and humbled to be joined tonight by Buzunesh Deba who, as we know, is not only one of the greatest marathoners in the world, but also a New Yorker." Robinson said. "She is one of us, so we are excited to surprise the runners with her presence."
The gathering at Queen of Sheba Restaurant in Manhattan featuring Buzunesh Deba was sponsored by Nike and preceded by a 4-mile local run. Buzunesh, who finished second in the 2011 and 2013 New York City marathons, told her fans that this year, God willing, she'll win, and posed for photos with the runners, some of whom will be joining her at the 2014 NYC Marathon on Sunday, November 2nd. Buzunesh also posed with the restaurant owners who had welcomed her into their home when she had first arrived in the U.S. to build her career. "This is truly a family gathering" Robinson told the audience.
Coach Robinson told Tadias Magazine that the group chose to stop by Queen of Sheba after their local run because "this is where the world's best marathoners come to celebrate their victories."
Below are photos from the event:

—
Related:
Ethiopia's Lelisa Desisa to Challenge Historic Men's Field at 2014 NYC Marathon
Join the conversation on Twitter and Facebook.