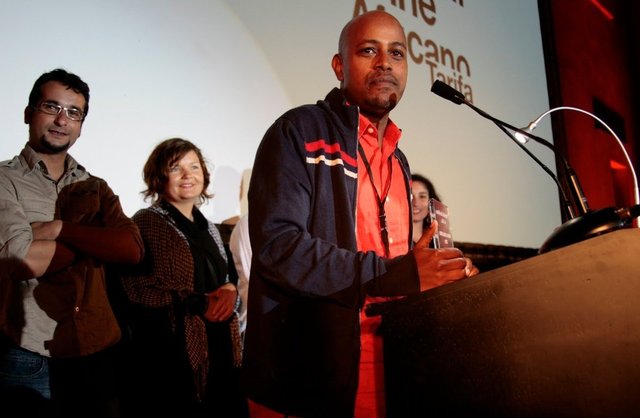 Tadias Magazine
By Tadias Staff
Updated: Wednesday, November 2, 2011
New York (TADIAS) – NBC Universal's Focus Features has named Ethiopian Filmmaker, Zelalem Woldemariam, as one of the recipients of its 2011 grant for short films from Africa.
Earlier last month, CEO of Focus Feature's Africa First program, James Schamus, announced that their initiative exclusively for emerging filmmakers from Africa has awarded five artists $10,000 apiece. The grant is designed to help finance the production of a short film by each filmmaker.
"My film is about an Ethiopian drummer who learns about his identity and traditional music in an unexpected way," Zelalem said in a recent interview with Tadias Magazine. Speaking about his film entitled Adamet (Listen), Zelalem adds: "I have always been fascinated by our music and I have wanted to do a film that showcases this rich and colorful part of our culture for a long time."
The other winners include Ms. Oshosheni Hiveluah of Namibia, Mr. Cedric Ido of Burkina Faso, Mr. Mark Middlewick of South Africa and Ms. Akosua Adoma Owusu of Ghana.
According to the motion picture company, the winning filmmakers will also visit New York City this month for a weekend to meet each other as well as Mr. Schamus and President of Focus Features production Jeb Brody.
"I'm continually impressed by the range of great young artists we meet through Africa First," Mr. Schamus said in a statement. "Each filmmaker has a distinctive vision and voice, and I look forward to learning from them at our summit."
Zelalem is a self-taught filmmaker, born and raised in Addis Ababa. In 2005, he founded Zeleman Production, which now employes twenty-five people and has become one of Addis' go-to studios for creating various media products. Zelalem's first international recognition came in 2010 when his film called Lezare (For Today), a 12 minute movie which explores the link between environmental degradation and poverty, won the "Best Short Film Youth Jury Award" at the 7th African Film Festival in Spain.
Producer Kisha Cameron-Dingle, who serves as program director for the Africa First program, said, "We are particularly proud of the diversity and ambition in this year's solid group, with new storytellers coming from several countries contributing to the program for the first time."
"This means a lot for me and my Ethiopian filmmaker colleagues," Zelalem said. "To be recognized by a Hollywood studio is a big deal." He added: "Personally I hope it will open a lot of doors."
—
You can learn more about Focus Features' Africa First program at focusfeatures.com.
Related:
African Film Festival NY Features Zelalem Woldemariam's "Lezare" (TADIAS)
Join the conversation on Twitter and Facebook