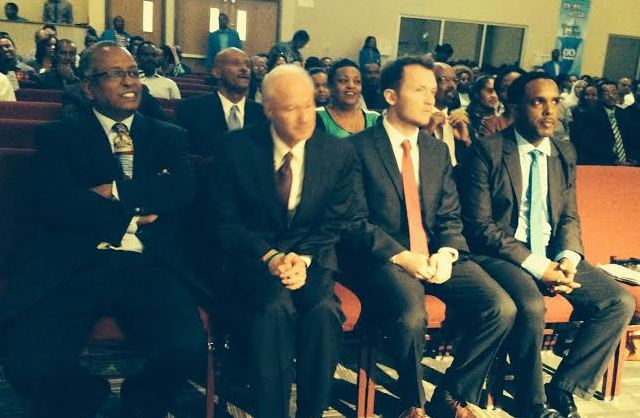 Tadias Magazine
By Tadias Staff
Published: Monday, November 3, 2014
New York (TADIAS) – Republican Congressman Mike Coffman of Colorado's 6th Congressional District, who is running for re-election, visited four Ethiopian churches yesterday, ahead of the mid-term U.S. elections on Tuesday, hoping to attract votes from the community. Organizers says that Mr. Coffman received "a gracious reception" by his Ethiopian American hosts to whom he pitched his views on issues related to immigration, small business loans, and U.S. foreign policy towards Ethiopia. The latter, we are told, received an enthusiastic response. "It was a great success and our community will vote tomorrow and decide on many important issues," said Mel Tewahade, CEO of Infinity Wealth Management, Inc., who helped coordinate the visits for the Congressman.
Mr Coffman who previously served as the Secretary of State of Colorado and as State Treasurer, was first elected to the U.S. Congress in 2009. Per Wiki "Located in central Colorado [his district] encompasses much of the southern part of the Denver-Aurora Metropolitan Area, including the suburbs of Littleton, Centennial and portions of Aurora. Redistricting in 2012 added some suburbs to the north of Denver including Brighton and Henderson."
In Tuesday's midterms election, the Republican party is widely expected to win control of the Senate and retain their majority in the U.S. House of Representatives, according to the latest polls.
The election season this year also features an unprecedented number of minority candidates, including the first Ethiopian American Candidate for U.S. Senate Mohammed Tahiro of Texas. The Associated Press reports that "more than 100 black candidates will be on the ballot in statewide and congressional races, a post-Reconstruction record that some observers say is a byproduct of Barack Obama's historic presidency." The list includes the state of Utah's Mia Love, who if elected, is poised to become the first black Republican woman to serve in Congress.
In Colorado Mel said: "Congressman Coffman will do a lot to help our community with business loans and immigration matters for our families. I was also proud and happy to be Ethiopian as we are getting stronger and starting to stand on our own two feet."
Below are photos courtesy of the organizers:

—
Related:
US Election 2014: A Record Number of African Americans Running for Office
Who's Who in the Nov. 4 Election
What You Need to Know About Tuesday's Midterm US Elections
Mohammed Tahiro Interview: First Ethiopian American Candidate for U.S. Senate
Ethiopian American Council Endorses Congressman Mike Honda for Re-Election
Join the conversation on Twitter and Facebook.