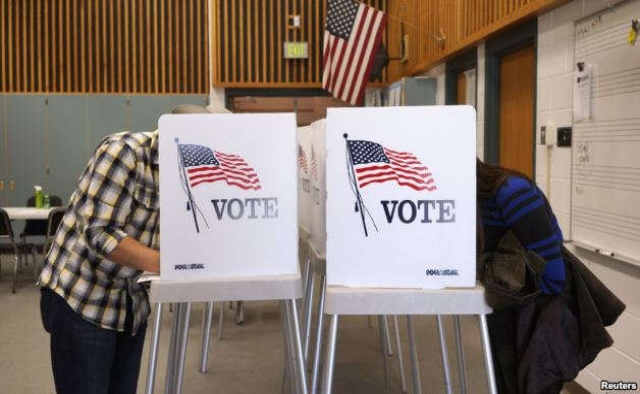 November 04, 2014
Republican candidates have won enough seats in Tuesday's U.S. congressional elections to capture control of the Senate.
Democrats had held a 55-seat majority in the Senate, but Republicans picked up six seats with wins in Arkansas, Colorado, Montana, North Carolina, South Dakota and West Virginia.
However, there several races were still to be decided.
In Louisiana, neither candidate won more than 50 percent of the vote. The Senate race between incumbent Democrat Mary Landrieu and Republican challenger Bill Cassidy will go to a December 6 runoff.
Another tight race is in Georgia, where Republican Senator Saxby Chambliss is retiring. Democrat Michelle Nunn and Republican David Perdue are in a very tight battle to win that seat, and Democrats are hoping for a runoff if not outright victory.
McConnell reelected to sixth term
In other good news for the Republicans, Senate Minority Leader Mitch McConnell was reelected in Kentucky to a sixth term, easily beating his Democratic rival, Alison Lundergan Grimes. It was an ugly race, with both sides struggling to outspend the other, and polls showing Grimes leading McConnell as late as last week.
If Republicans grab control of the Senate, McConnell would become Senate majority leader and one of the country's most powerful politicians. He would have the authority to decide which bills to bring up for a vote.
But the Democrats also secured a big win for an incumbent Tuesday, with U.S. news outlets calling the New Hampshire Senate race for Democratic Senator Jeanne Shaheen.
President Barack Obama said Senate Democrats faced what could be the toughest races since 1958, when Republicans lost 13 Senate seats under then-President Dwight Eisenhower.
A third of the Senate's 100 seats were at stake in Tuesday's elections, and Obama said many of the states with contested Senate races tend to tilt Republican.
Meanwhile, the TV networks predict the Republicans will keep control of the House, even gaining a number of seats. This could give the Republicans the highest number of House seats since 1947, when Democrat Harry Truman was the U.S. president.
The elections are pivotal because they will determine whether Democrats or Republicans control Congress during President Obama's final two years in office.
With the president's approval rating mired in the low 40 percent range, the Republicans' best chances were in several states that Obama lost two years ago, even as he won reelection. Obama was not on the ballot, but he said his policies were, and Republicans sought to link their Democratic opponents to Obama's unpopularity.
Republican victories
In other Senate victories for the Republicans, Lindsay Graham was re-elected in South Carolina, while a second Republican, Tim Scott, won the election to finish the term of Senator Jim DeMint, who resigned.
Scott became the first African-American elected statewide in South Carolina since the end of the American Civil War.
Republicans also picked up a seat in West Virginia that had been held by Democrats when Representative Shelley Moore Capito won the race to replace retiring Democratic Senator Jay Rockefeller.
Former South Dakota Governor Mike Rounds, a Republican, will take over from retiring senator Tim Johnson. Rounds held off Democrat Rick Wieland and two independents.
Republican Cory Gardner defeated Colorado's incumbent Democratic Senator Mark Udall.
Republican Tom Cotton won a bitterly contested Senate race in Arkansas. TV network projections gave Cotton a victory over two-time Democratic Senator Mark Pryor.
Polling results
Opinion surveys showed Republican candidates poised to win Senate races in Iowa and Alaska.
The accuracy of pre-election U.S. political surveys has often been erratic, with some polling turning out to be way off the mark. Even as several Senate races were deemed too close to call, analysts said Republicans had about a 70 percent chance of picking up at least six seats to control the Senate.
If Republicans do control Congress, it could presage new disputes with Obama over his signature legislative achievement, massive national health care reforms that have allowed millions of people to secure insurance coverage they could not previously afford.
Many Republicans view it as excessive government involvement in people's health care and call for repeal of the law.
Many Republicans also attacked Obama's handling of the current Ebola crisis, called for approval of an oil pipeline from Canada through the central U.S. and a curb on government regulation of businesses.
Some opposition lawmakers have also disputed the president's handling of Russia's intervention in Ukraine and U.S. airstrikes against Islamic State militants in Iraq and Syria.
In the United States, the two main political parties are feuding over spending and tax policies and immigration reforms.
Obama has vowed to set new immigration rules by executive order by the end of the year, after the House did not act on comprehensive reforms approved by the Senate. Some Republicans already are saying they will seek to block the president from unilaterally changing the country's immigration policies to allow millions of migrants who entered illegally to stay in the United States.
Ballot Initiatives on Marijuana, Guns
Some voters were given the chance to decide the legal status of guns and marijuana Tuesday.
Pot was on the ballot in the western U.S. states of Alaska and Oregon, as well as back east in Washington, D.C., and in Florida.
In the nation's capital, voters could legalize a so-called "grow and give" provision, allowing for small amounts of marijuana to be grown and given away for recreational use, but not to be sold.
The measures in Oregon and Alaska would legalize retail sales of marijuana to anyone old enough to drink alcohol.
Florida voters will decide whether to make their state the 24th to allow marijuana use for medical reasons. The measure needs 60 percent approval to pass.
In the 2012 general election, Washington state and Colorado became the first states to legalize marijuana use by adults, and they have subsequently implemented systems for regulating and taxing sales of pot.
Washington state had two competing gun-related measures. One sought background checks for all gun sales and transfers, including private transactions. The other would prevent any such expansion covering purchases from private sellers.

—
Related:
Republican Congressman Mike Coffman Visits Four Ethiopian Churches in Colorado
US Election 2014: A Record Number of African Americans Running for Office
Who's Who in the Nov. 4 Election
What You Need to Know About Tuesday's Midterm US Elections
Mohammed Tahiro Interview: First Ethiopian American Candidate for U.S. Senate
Ethiopian American Council Endorses Congressman Mike Honda for Re-Election
Join the conversation on Twitter and Facebook.