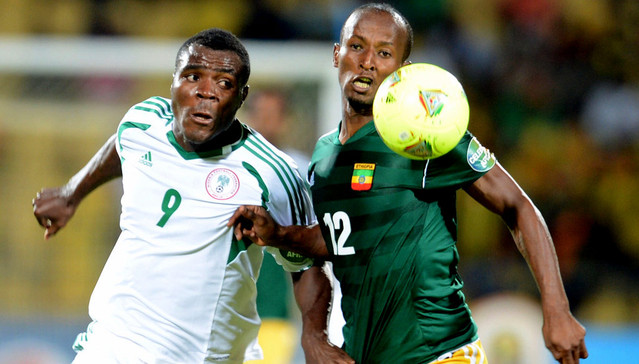 Daily Post Nigeria
By Phillip Eta
Updated: November 8th, 2013
The Walya Antelopes of Ethiopia have confirmed that they will arrive in Nigeria on November 14, ahead of the second leg of their FIFA World Cup qualifier against the Super Eagles in Calabar.
An official of the Ethiopia Football Federation, Telda Dagnechaw, made this known in a telephone chat with Brila FM.
"The Ethiopian team will arrive two days ahead so they can prepare properly and get used to the weather and environment," the EFF's Director of Competitions disclosed.
Read more.
—
Coach Sewnet Bishaw Confident about Ethiopian team's readiness
By Collins Okinyo
Ethiopia's preparations are in top gear after the arrival of Finland based Fuad Ibrahim in camp ahead of the do or die Nigeria return leg on the 16th November.
Despite the cancellation of an intended friendly against Burkina Faso coach Sewnet Bishaw has been conducting training in Addis Ababa with 23 players in camp .
Bishaw is delighted that the morale in camp was upbeat and he was happy with the training programme. He told supersport.com that:
"The mood in the camp is very positive it was disappointing for the Burkina Faso friendly to be cancelled but sometimes this things happen. Our focus is on ahead of the Nigeria game as I always believe anything is possible and we will work on our mistakes "
"It will be a tough match in Nigeria but the truth is that we will fight for the entire 90 minutes as we intend to cause an upset " he added.
Read more at Supersport.com.
—
Join the conversation on Twitter and Facebook.