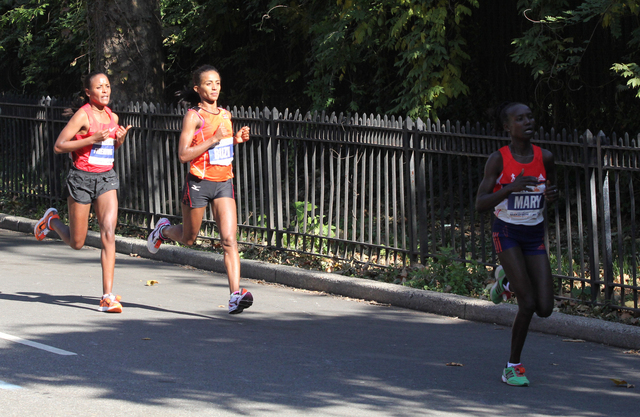 Tadias Magazine
By Jason Jett

Updated: Tuesday, November 8, 2011
A First, a Second, a Third and a Fourth: Ethiopia Leaves Its Imprint on NYC Marathon
New York (TADIAS) – The last was first, and the local hero finished second, as Ethiopian women ran 1-2 in dominating the female division of the 42nd ING New York City Marathon.
Ethiopian men finished third and fourth overall, and three placed in the top 10, on a crisp, sunny autumn morning that produced a course record 2:05:06 by Geoffrey Mutai of Kenya.
Tsegaye Kebede (2010 London Marathon winner) was third in 2:07:14 and defending champion Gebre Gebremariam this time was fourth in 2:08:00, with Emmanuel Mutai, no relation to the winner, the runner-up in 2:06:28. Ezkyas Sisay, who helped set the pace over more than the first half of the course, finished ninth in 2:11:04.
On the women's side Firehiwot Dado, 27, who runs for the Ethiopian Federal Prisons Club, won her debut New York City Marathon in 2:23:15, finishing four seconds ahead of a closing Buzunesh Deba.
Deba currently lives in the Bronx — where she began a surge that led to her and Dado overtaking Kenyan Mary Keitany in the final mile of the 26.2-mile course through the five boroughs.
Keitany had started fast and built a lead of up to two minutes before fading. Deba and Dado picked up their pace about Mile 19, and caught the Keitany shortly after Mile 24 before passing her a mile later on Central Park South.
Dado, who won the Rome Marathon in 2009, 2010 and 2011, was a late entrant in New York.
"She definitely was the last woman we entered in the race," said David Monti of the NYRR, the race organizer. He said Dado's entry was not finalized until Oct. 9.
Sam Grotewold, also of the NYRR, added Dado's victory was " an upset, that's for sure."
At the post-race news conference Dado said, "I am very happy. It was a very good race. It was a tough race, and I didn't expect this result. But I am very happy to have won New York."
Coach Haji Adilo said he arranged for Dado to run New York because he knew she would be competitive after training in and around Addis Ababa last summer with Mamitu Daska, who won last month's Frankfurt Marathon in 2:21:59.
"I expected Mary Keitany to win, and after seeing her start I didn't think anyone was going to catch her," said Adilo. "But when she began to slow down, I knew Firehiwot could win because she has a strong kick. When she won in Rome (2:24:13), her last half was 1:11."
Dado told reporters she began running in secondary school, and credited Adilo for having "encouraged me and pushed me to start the marathon" distance because previously "I had no intention of doing that."
(Photo: Firehiwot Dado & Buzunesh Deba hug after their NYC Marathon victory – Getty Images)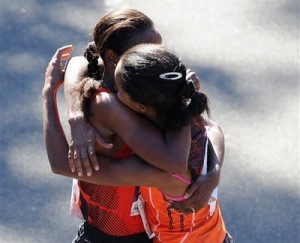 Deba, who led Dado until they overtook Keitany, said running into the Bronx had inspired her to pick up the pace and added she was pleased with the result because "my friend won."
"We lived in the same town, and ran on the same team," Deba said. "It was my dream to win, but maybe next year."
Worku Beyi, Deba's husband and coach, made this assessment as he displayed a slight gap between a thumb and finger: "She made a small mistake. She will correct it."
Deba said running along a familiar route that included portions of Central Park over which she regularly trains helped yesterday, but stated in addition to Dado and Keitany she had to fight off cramps under her ribs in the final miles.
"I thank God that He gave me power, and thank you, New York Road Runners, and thank you the New York people, all of them," she added. "They supported me. They cheered me. They called my name. I am so happy. It was hard. It was a tough race, and I finished second in place, so I'm so happy."
The New York City Marathon captivated Ethiopians throughout the city — particularly the professional running community.
Abiyot Endale followed the race by video stream on the Internet, texts and phone conversations as he returned from Camden, NJ, where that morning he won the Cooper Norcross Bridge Run 10K in 30:05.
"Oh my God," he said as Deba and Dado began to overtake Keitany. "Buzunesh has a chance to win the New York City Marathon!
"I know both of them," he added. "We were on the same team. I don't know which I want to win. "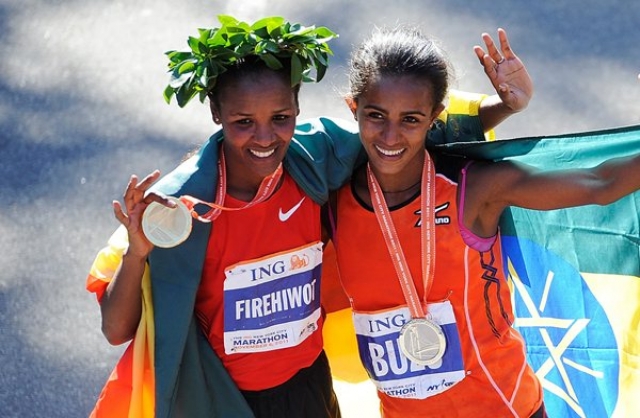 Firehiwot Dado and Buzunesh Deba, 1-2 in New York. (Getty Images)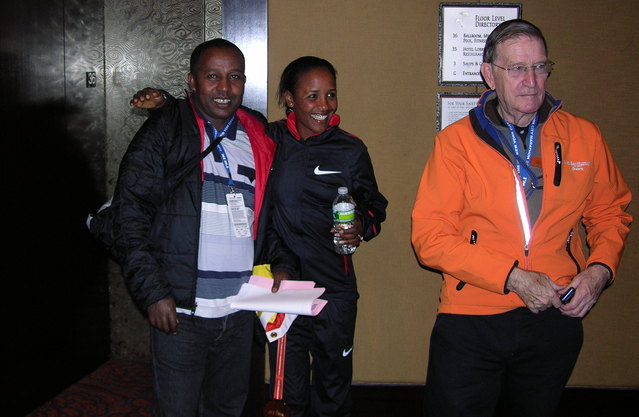 Firehiwot Dado and her Coach Haji Adilo after the post-race news conference. (Photo by Jason Jett for Tadias Magazine)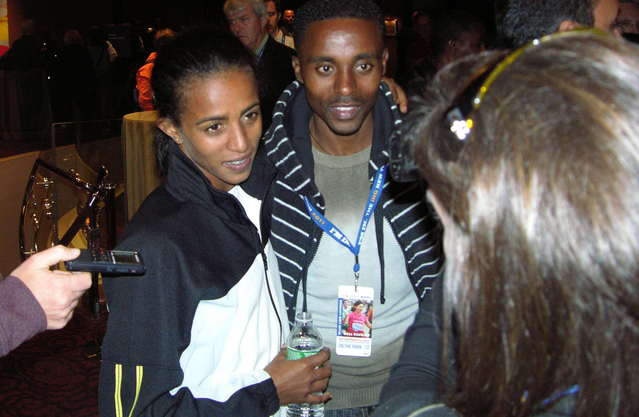 Buzunesh Deba and Worku Beyi speak with the press after the race. (Photo by Jason Jett for Tadias Magazine)

Firehiwot Dado after the post-race news conference. (Jason Jett for Tadias Magazine)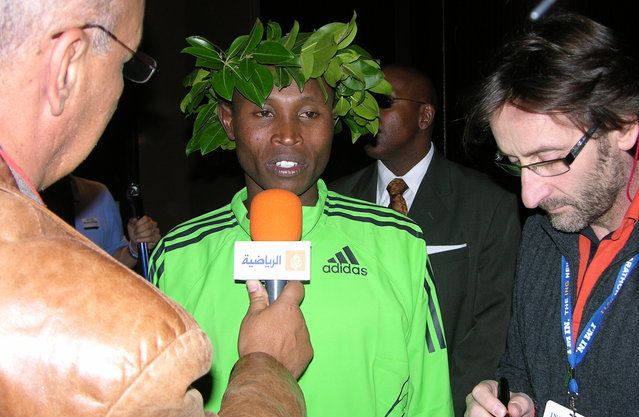 Geoffrey Mutai tells news media he does not want to give himself a title, that it is up to them. (TADIAS)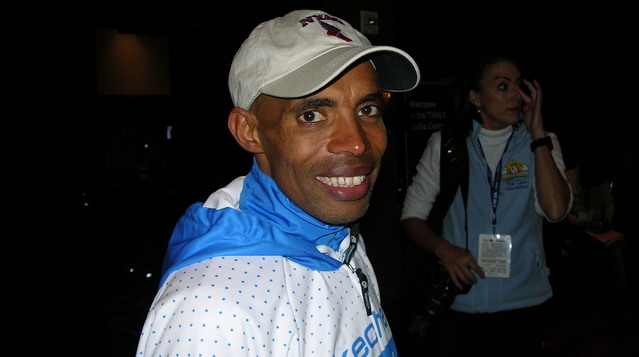 Meb Keflezighi, the highest finishing American man, was sixth with a personal best of 2:09:13. (TADIAS)
Six Ethiopian women were among the Top 20 finishers. Trailing Dado and Deba were Misiker Mekonnin Demissie (11th, 2:31:40), Werknesh Kidane (14th, 2:33:08), Serkalem Biset Abrha (15th, 2:33:22) and Aziza Aliyu (17th, 2:38:33).
Dado earned a check of $180,000, including a $50,000 time bonus, for her victory. Deba received $65,000, plus a similar time bonus.
Kebede was awarded $40,000 and Gebremariam $25,000, both with time bonuses of $50,000 to $40,000.
During the post-race news conference male bronze-medalist Kebede was asked to comment on the late Sammy Wanjiru, with whom he battled at the 2010 Chicago Marathon. The question was an emotional one for Kebede.
"It's true last year, Chicago, we had a very stiff competition," he said. "I tried very hard to win, and at the end I wasn't able to beat him, and he won. I actually prefer not to think or talk a great deal about him, because when I think about how he passed away, it really disturbs me and it makes me very sad."
Mutai, who won the 2011 Boston Marathon in the fastest-ever marathon time of 2:03:02, is being given Wanjiru's former crown as "world's greatest marathoner" by many experts.
Asked what title he would give himself after the news conference, Mutai said, "It is not for me to give myself a name. You decide what to call me."
Mutai became the first runner to set course records in winning both the New York and Boston marathons in the same year.
Watch: Firehiwot Dado & Buzunesh Deba Take Top-Two Spots at 2011 NYC Marathon

Watch: Geoffrey Mutai Wins 2011 Men's NYC Marathon – From Universal Sports

Watch: Homecoming Reception For New York Marathon Winners at Queen of Sheba Restaurant

–
Related:
Dado and Deba make New York an Ethiopian affair (IAAF)
Runner-up Deba is New York's hometown hero (ESPN)
Home at heart of Deba's run (The New York Daily News)
Buzunesh Deba Eyes NYC Marathon (TADIAS)
–