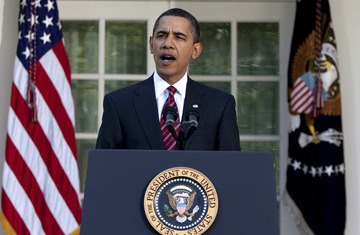 Above: President Obama made a statement to the media in
the Rose Garden at the White House on Sunday. (Brendan
Hoffman for The New York Times).
The New York Times
By CARL HULSE and ROBERT PEAR
Published: November 8, 2009
WASHINGTON — President Obama, seeking to build momentum on Capitol Hill after the House passed a $1.1 trillion, 10-year plan to overhaul the nation's health care system, urged the Senate on Sunday to "take the baton and bring this effort to the finish line." Speaking in the Rose Garden exactly 24 hours after he appeared there Saturday to call for House passage of the bill, Mr. Obama praised House members for what he called a ''courageous vote" that "brought us closer than we have ever been" to extending coverage to millions of uninsured Americans. He said the bill fulfilled his promise to bring sweeping change to the lives of millions of Americans. Read more.
Video: Confident Senate Will Take Reform To The "Finish Line"