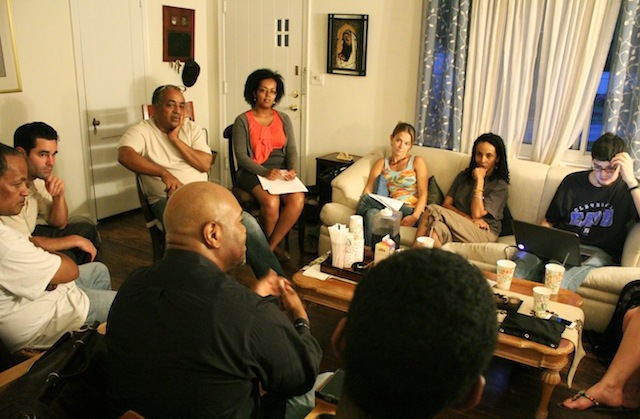 Tadias Magazine
By Tadias Staff
Updated: Monday, November 11th, 2013
New York (TADIAS) — If everything goes as planned the husband and wife team of Tebabu Assefa and Sara Mussie, co-founders of Blessed Coffee established three years ago in Silver Spring, Maryland under the state's Benefit Corporation law, may soon open a new cottage cafe that offers not only premium Ethiopian coffee roasted on site, but also a community space where you can hold meetings, cooking classes, book reading clubs and other activities.
At a dinner last month celebrating the venture's third anniversary at Addis Ababa restaurant in Silver Spring the couple announced their plans to expand the venture unveiling their "Brewing Change" crowdsourcing campaign for funds to build a prototype facility in Maryland that they hope to duplicate across the country. The gathering was attended by a diverse group of elected officials, business leaders, social entrepreneurs and activists — among them state Senator Jamie B. Raskin who authored Maryland's Benefit Corporation law.
In an interview with Tadias Magazine Tebabu said that for the past three years they have been introducing their Blessed Coffee brand at coffee shops, farmers markets and festivals around Maryland. "We are now moving to the second phase, from wholesale to opening our own retail shop," Tebabu added. The "Brewing Change" campaign was conceived in his living room by a group of 16 volunteers from various professions and cultural backgrounds that had met at his home every other week for nearly six months. "They are made up of men, women, young, old, Latinos, Black, White, you name it," he said. "They are business experts, freelance writers, IT professionals, and community organizers."
The driving factor behind the operation is neither charity nor profits exclusively, but a combination of both. As Tebabu puts it: "to create wealth while making a difference on both sides of the Atlantic." He pointed out that coffee is the second most traded commodity next to oil, and that the market share is large enough to go around.
"We call our business model a 'Virtues Exchange,' he explained. The idea is to go beyond foreign aid and fair-trade through public-private partnerships that create jobs in America while empowering coffee farmers in Ethiopia as stakeholders in the transaction. In the process, he said, they also aim to educate the U.S market about the Ethiopian traditions of consuming coffee.
"My wife Sara reminded the gathering at Addis Ababa restaurant that in Ethiopia we drink coffee with a social purpose, in a relaxed fashion, with neighbors, friends and family to catch up with the latest news, gossip, and other happenings," Tebabu told Tadias. "Here in America, on the other hand, people grab a cup to run."
Tebabu said they plan to present their "grassroots social change model" at a local symposium in Silver Spring tentatively scheduled for January 2014 called "The African Diaspora Business Community Conference," that they will host. "We are assembling local organizational partners that reflect the shifting paradigm in the Diaspora especially among the young generation," he said. "We have already enlisted, for example, the dynamic organization, Young Ethiopian Professionals (YEP) and Qmem, a new business started by two Ethiopian American youth who were inspired by their trip to Ethiopia to do the same thing with spices as what we are trying to do with coffee."
For now Blessed Coffee is enjoying invitations from Ethiopian and other organizations to present their coffee and ceremony at various cultural and religious events. Their latest was in New York when they were invited by the Ethiopian Israeli group Chassida Shmella to take part at last week's Sigd service at Bnai Jeshurun Synagogue in Manhattan.
"It was magical," said Tebabu of the ceremony marking the ancient Ethiopian Jewish festival (now a national holiday in Israel). "I was struck by how similar it was to Sigdet in the Ethiopian Orthodox Church."
Below is a video narrated by co-founder Sara Mussie explaining their mission.
Watch:

—
You can learn more at www.blessedcoffee.us. Click here to meet the Brewing Change Team. See the Brewing Change Campaign at www.indiegogo.com.
Related:
Blessed Coffee company uses crowdfunding to raise money for Takoma Park cafe (The Gazette)
Brewing Change: Blessed Coffee's Third Anniversary Celebration (Silver Spring Patch)
Join the conversation on Twitter and Facebook.