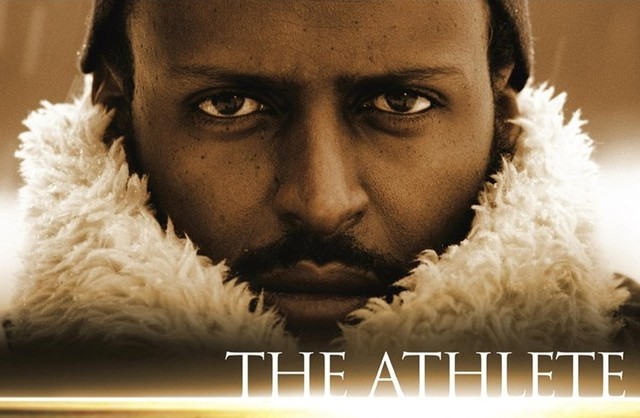 Tadias Magazine
By Aida Solomon

Updated: Wednesday, November 14, 2012
Los Angeles (TADIAS) – It is no secret that Ethiopia has produced some of the world's greatest long distance runners. Rasselas Lakew's independent film Atletu (The Athlete), pays tribute to the first runner that paved the way for generations of African athletes in the Olympic Games — the marathon hero Abebe Bikila.
Directed by Davey Frankel and Ethiopian-born Rasselas Lakew, Atletu, which was released in 2009, is currently featured as part of Film Festival Flix's monthly theatrical series and an online platform that brings lesser-known movies to audiences around the country. Lakew, who co-wrote the script and also stars as the legendary runner, will attend the screenings along with the co-director.
In the film, Abebe Bikila is introduced to the audience well after his physical prime, while visiting family in Jato, Ethiopia in 1969. Driving a creaky Volkswagen on a dirt road, Bikila takes a literal and figurative drive down memory lane, passing through the breathtaking countryside of his childhood as actual footage of Bikila's past races are juxtaposed together.
Bikila, who served as a member of the Imperial Bodyguard of Emperor Haile Selassie, became the first African to win a gold medal in the 1960 Rome Olympics, which he run barefoot, and setting into motion the legacy of long-distance running in Ethiopia. He won his second consecutive gold four years later in Tokyo in a new world record time, becoming the first athlete to win the Olympic marathon twice. The film's archival footage highlights Bikila's historic finish in Italy as he ran through the streets of Rome – passing by the stolen Ethiopian Obelisk monument while cruising to victory.
A symbolic slap in the face to Ethiopia's former occupier, Italy, Bikila catapulted into international stardom. Several years after the Rome Olympics, however, Bikila realizes that other young stars from his country are conquering the sport. Atletu touches upon Bikila's reckoning with being an aging legend in his country, as he focuses his attention on the upcoming 1972 Munich Games.
Unfortunately Bikila's qualification for Munich is further deterred by a car accident that he suffers on his trip back to Addis Ababa from the countryside. Declared a quadriplegic, Bikila has to endure months of rehabilitation in the U.K., and his final race is never fulfilled.
Rasselas Lakew's portrait of Bikila is stoic and understated, garnering him the "Best Actor" award from the 2011 Brooklyn Film Festival. Although Lakew studied Geology in college, he was drawn to filmmaking in the hopes of creating African narratives created by Africans. Lakew, who now lives and works in New York, took film-studies courses at Montana State University film school in the early 90′s. Lakew says Bikila's remarkable story is a neglected one, a "man of the mountains" who "conquered Rome" with his bare feet.
With stunning cinematography, a memorable soundtrack, and archival footage that is sure to stir pride and please any heart, Atletu (The Athlete) is a modern ode to one of Ethiopia's legendary heroes.
—
Watch: Atletu (The Athlete) Movie Trailer

—
Related:
Abebe Bikila: Athletic Legend Honored With Google Doodle (TADIAS)
Join the conversation on Twitter and Facebook.