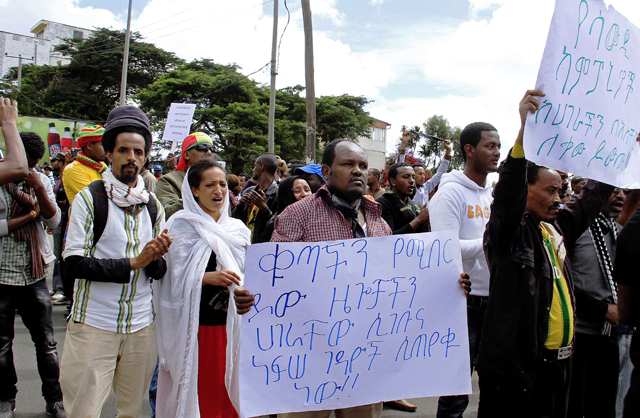 Associated Press
Updated: Friday, November 15, 7:18 AM
ADDIS ABABA, Ethiopia — Ethiopian police used force Friday to disperse hundreds of people protesting against targeted attacks on Ethiopians in Saudi Arabia.
Police units blocked roads to prevent the protest at the Saudi Arabia Embassy from growing. Some two dozen people were detained. The police also forced some journalists to delete photos.
Many foreign workers in Saudi Arabia are fleeing or are under arrest amid a crackdown on the kingdom's 9 million migrant laborers. Close to 500 Ethiopians have been repatriated. Last weekend, Saudi residents fought with Ethiopians, and video emerged of a crowd dragging an Ethiopian from his house and beating him.
Read more at Washington Post.
—
Related:
Ethiopian Police Crackdown on Anti-Saudi Protest (AP)
Photos: Ethiopians Hold Protest Outside Saudi Embassy in Washington, D.C. (TADIAS)
First group of Ethiopians from Saudi arrive in Addis (ERTA)
23,000 Ethiopians 'Surrender' in Saudi After Clamp Down (BBC)
Ethiopians Shame Saudi Arabia On Twitter for Migrant Killings (TADIAS)
Three Ethiopians Killed in Saudi Arabia Visa Crackdown (AFP)
Join the conversation on Twitter and Facebook.