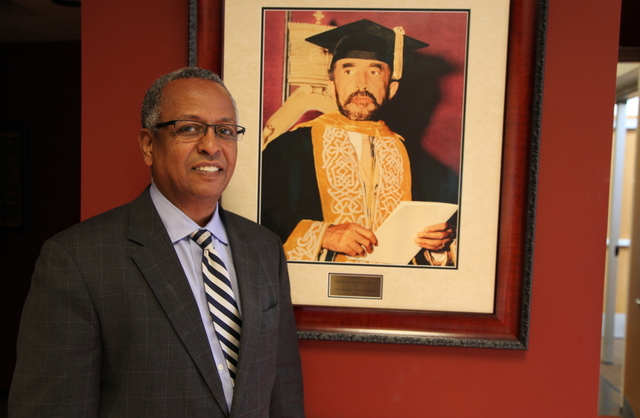 Tadias Magazine
Events News
Published: Monday, November 18th, 2013
New York (TADIAS) Mel Tewahade was honored this past weekend at Oklahoma State University (OSU) for his work in producing the Point Four Documentaries that highlight the history and partnership between OSU and Haramaya University. Mel, who resides in Denver, Colorado is also the President, Founder and CEO of Infinity Wealth Management.
The event, which took place in the Point Four Room at Wes Watkins Center on Thursday, November 14th at OSU featured the screening of Part Three of his documentary. Mel also delivered the keynote address on Saturday at the Oklahoma-Ethiopia Society meeting in Stillwater, Oklahoma.
Below are photos from the program:

—
Related:
Letter From Harar: Dr. Clyde Kindell's 'Fond Memories of Ethiopia' — Photos (TADIAS)
Mel Tewahade: Making Documentary on US Foreign Aid Program
New Film Highlights Rarely Seen White House Photos (TADIAS)
An Interview With Documentary Filmmaker Mel Tewahade (Curve Wire)
Point Four: A Film About Haramaya University (TADIAS)
Join the conversation on Twitter and Facebook.