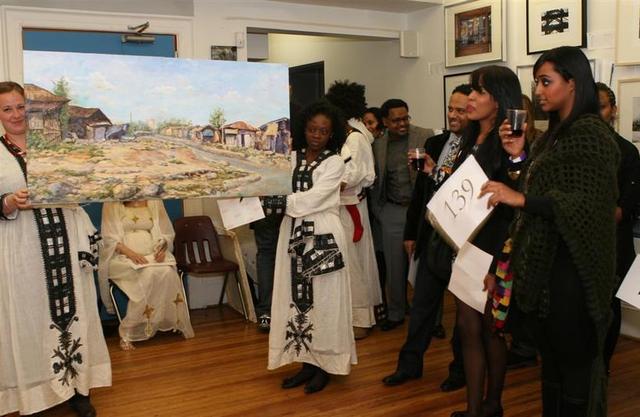 Tadias Magazine
Events News
Updated: Monday, November 21, 2011
Washington, DC (TADIAS) – Artists for Charity (AFC) will host its 5th Annual Holiday Art Auction next month in Washington, D.C. The network of artists, volunteers and donors operate a home for HIV positive orphans in Addis Ababa.
"The benefit will be held during World AIDS Week and will feature amazing artwork from local and international artists," AFC said in a press release. Artwork made by the children at the AFC home will also be featured.
The AFC Children's Home houses young people infected with HIV, who have lost both their parents. The home provides food, shelter, medical care, school fees and supplies for the children. AFC also has other projects including an Artist-in-Residency program, which allows qualified volunteers to spend up to a year in Ethiopia while sharing their creative talents with AFC children.
"Millions of children around the world are infected with HIV every day and many of them die young, and those who survive struggle to live normal healthy lives" the press release said. "The AFC Holiday Benefit gives everyone a chance to support the cause."
—
If You Go:
AFC's 5th Annual Holiday Benefit & Art Auction
Saturday, December 3, 2011
600 I St. NW Washington, DC 20001.
Advance tickets: $35
Ticktes at the door: $40
Time: 6:30 p.m.
Learn more at Artistforcharity.org
—
Related:
Photos: 2010 Artists for Charity Fundraiser
Watch: Artists for Charity (AFC) Children's Home – Their Story