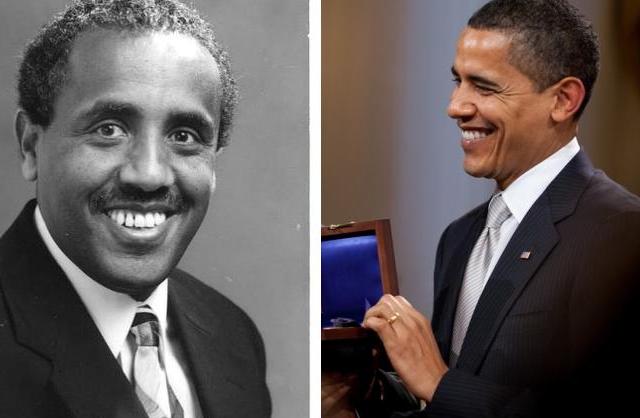 Tadias Magazine
By Tadias Staff
Published: Thursday, November 17, 2011
WASHINGTON, DC (TADIAS) – When Physicist Solomon Bililign was a young teacher imprisoned in Ethiopia during the "Red Terror" era, he never imagined that he would one day receive a Presidential Award in the United States.
Now a professor at North Carolina Agricultural & Technical State University, Dr. Bililign is one of nine individuals whom President Obama this week named recipients of the Presidential Award for Excellence in Science, Mathematics, and Engineering Mentoring. The honorees will receive their awards at a White House ceremony later this year. The award recognizes the role that mentoring plays in the academic and personal development of students studying science and engineering. According to the White House, candidates are nominated by colleagues, administrators, and students at their home institutions.
"Through their commitment to education and innovation, these individuals are playing a crucial role in the development of our 21st century workforce," President Obama said. "Our nation owes them a debt of gratitude for helping ensure that America remains the global leader in science and engineering for years to come."
"I am humbled by the honor," Dr. Bililign said in an interview with Tadias Magazine following the announcement. "I am just one of thousands of mentors who happened to be nominated." He added: I am sure there a lot more deserving mentors. The recognition would motivate me to do more."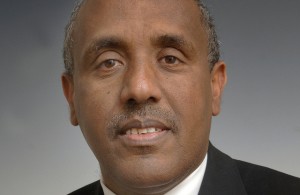 Dr. Bililign said that success in science, engineering or math is not as glamorous as success in performing arts or sports in the U.S., but the economic competitiveness of the nation, depends on a solid foundation in the sciences. "Young people need to be encouraged, pushed, persuaded to do it," he said. "Not for the money or fame but for the love of discovery and innovation. I believe every one has a gift, and a mentor's role is to identify the gift and nurture it."
Dr. Bililign was born in Dessie, Ethiopia. He left the country in 1987 to pursue a PhD in Physics at the University of Iowa. "Both my parents were teachers," he said. "They are actually the first graduates of the Debre Berhan Teachers Training program then run by the US Point Four program." He continued: "Their first assignment was in Mekele, Northern Ethiopia where they started school under a tree by collecting shepherds from the field… that modest start grew into a big elementary school where my father served as a Principal for over 10 years and my mother taught home economics, until they transferred to Dessie. I did all my school grades one through eleven at Atse Yohannes Elementary and Secondary School."
Dr. Bililign said he followed in his parents footsteps to be trained as a high school teacher and joined the Prince Bede Mariam Laboratory School in grade eleven. " I graduated as a physics teacher from Addis Ababa University (AAU), but ended up as a graduate assistant at AAU and taught there as a lecturer for several years," he said.
But Dr. Bililign's life-journey has not always been easy. He was imprisoned and tortured during the "Red Terror" era. His father died in a car accident on his way to visit his son in prison.
"While no one had to go through [what I went through], I think I have turned that negative and hard experience to my advantage, where I spent most of my time teaching young prisoners during the day and prison guards during the night, trying to give hope in a seemingly hopeless situation, and keeping myself busy and overcoming negative feelings and bitterness," he said. "The experience also gave me time to reflect on my life and see the bigger picture in life."
And what is his advise to a new generation of aspiring scientists? "For the young people who are intimidated by the hard work needed in science, math and engineering, I say nothing in life is easy, it is all about deciding to do it with passion. Every thing will give up its secrets if you love it enough," he said.
We congratulate Professor Solomon Bililign on his accomplishments.
Update: Dr. Bililign Visits White House, Receives Award (Monday, Dec. 12, 2011)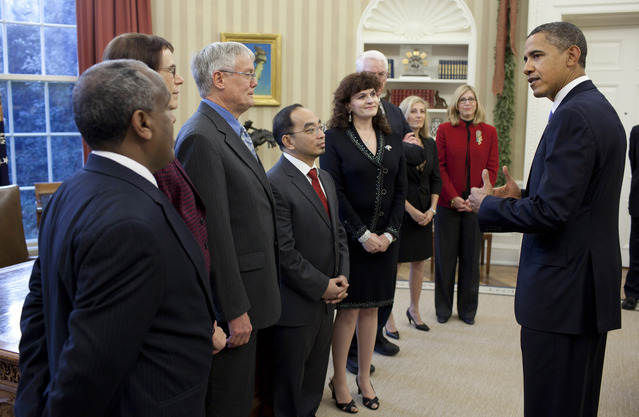 President Barack Obama greets Dr. Solomon Bililign (left) and other recipients of the 2010 Presidential Awards for Excellence in Science, Mathematics and Engineering Mentoring in the Oval Office, Dec. 12, 2011. (Official White House Photo by Pete Souza)
—
Join the conversation on Twitter and Facebook.