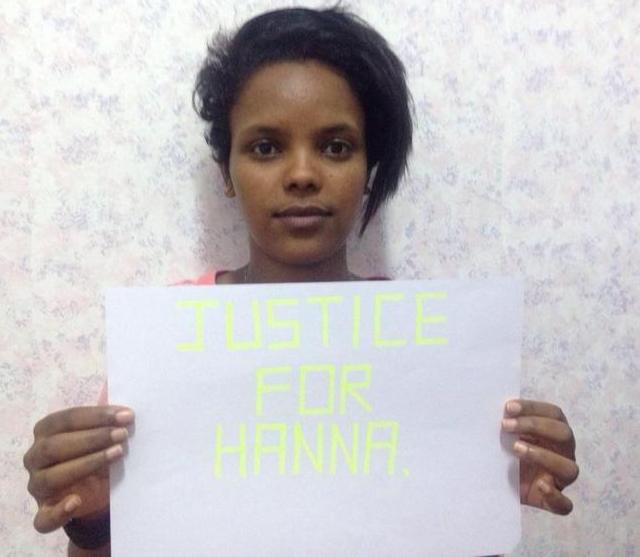 Tadias Magazine
News Update
Wednesday, November 19th, 2014
Ethiopia – The Yellow Movement at Addis Ababa University — an initiative co-founded by law school lecturer Blen Sahilu and a group of students organized to advocate for the protection of women from gender based violence — is bringing international attention via social media to the recent broad daylight kidnapping and gang rape of a 16-year-old student, Hanna Lalango. The latest social media update regarding the case indicates that the suspects have all been apprehended and expected to appear before court today at Addis Ababa First Instance Court.
Below is an excerpt of what Blen Sahilu of the Yellow Movement AAU wrote on Facebook on Monday:
A few hours ago I had an emotional conversation with Hanna's older brother. Hanna is the young victim of a gruesome kidnapping and gang rape that in the end took her life.

According to her older brother, Hanna was 16 years old (soon to be 17). She was the last born of six siblings, five girls and a boy. Hanna's only brother had reluctantly agreed to meet me and brought his close friend along.

Hanna and her siblings were all raised by a stay at home mom and a public servant father.
"She was a typical young girl. A timid and respectful child" told me her brother, not knowing how exactly to describe his little sister. "She was really nice."

She had complained about not feeling well the morning of her kidnapping. She kept on saying she is not feeling so good. After an ordinary day at her high school around Ayer Tena, Hanna got out of school at around 4pm and got on the nearest taxi that had a couple of passengers. The woyala shut the door and the taxi began moving. Hanna was being kidnapped.

The incredible cold bloodedness of the entire affair and how this drawn out torture must have made her feel like is something that makes me shiver.

Contrary to reports on the media that the suspects were caught as a result of a phone number given to the police by Hanna's close friend, it turns out that the kidnappers were communicating with Hanna's sisters while Hanna was at one of the suspect's house. They went to meet them per their phone conversation and the same mini bus taxi pulled up next to them and they asked them to get inside to go see Hanna. They refused. They asked why they didn't bring her and where she was. The men in the taxi drove off still taunting and teasing them. "You won't see your sister then!"

That is when they took down the plate number of the minibus and gave it to the police.

They then got a call that Hanna was somewhere around Qeranyo, and was taken to the hospital in an ambulance because she had lost consciousness as soon as the kidnappers left her there.

As soon as she could speak, broken and terrified, Hanna tried to talk about what happened. She spoke of men doing horrible things, told her family the names she remembered. "She had terrible nightmares. She used to cry a lot."

Putting two and two together the police arrested a couple of viable suspects. They brought them to the hospital so Hanna could identify them. She pointed each one of them out. One even tried to yell at her. But she remembered.

The doctors kept on saying it was a miracle that Hanna survived such a horrible attack. "Her genital area was such bad shape that even the doctors treating her were finding it difficult to hide their emotions." Everyone was shocked and angry about what happened.

"On the last day, when I finally realized the full extent of the damage I was absolutely devastated and went out to borrow money so that we can move her to a private hospital. I was so scared that she might not make it. I was crying and talking to myself the whole time, people were staring at me. I did not care. I could not believe men born of women did this to my sister. Aren't their mothers women too? Where did they come from??" said Hanna's brother, trying to still grapple with the cruelty that took away his sister's life.

I could not find the right words to tell him how sorry I was. But I tried.

I am still asking; Is this a random terribly unlucky incident? Or is this one of many such cases? Who are the suspects in custody? Have they done this before?

How many families have missing daughters or kidnapped or raped daughters that they are keeping a secret?
Why would they do that?

Well, because we live in a community that shames the victim more than the perpetrator. Because a woman who is raped, is defiled and ruined. She has no dignity. And a rapist? Well, that depends.

Isn't it shocking that this same community breeds young men who drag their neighbors daughters into a dark corner to gang rape and assault. Isn't it absolutely terrifying that we build a life around this disgusting reality because we refuse to confront it?

Hanna was wearing her school uniform when she left the house that morning, a blue skirt and matching blue sweater.

She was supposed to head back home and change in to her yebet libs and greet her father at the gate as she always does. "If someone else opens the gate for him, he would always ask "Hanna yet heda new?"
And here is what people are saying about the case on Twitter:
If this horrific news of gang raping of teenage girl by 5 men doesn't frightened & outraged you,probably nothing will. #JusticeForHanna

— Abebe Birhanu (@abirhanu) November 18, 2014
So much love to all the women out there raising awareness about #MyDressMyChoice #JusticeForHanna and being met with hate + anger.

— a y a n t u (@DiasporicLife) November 19, 2014
It is thwarting, sickening & doleful act. They didn't only rape #Hanna they raped Humanity. They raped our safely. #JusticeForHanna

— Melat Mesfin (@melumesfin) November 18, 2014
#JusticeForHanna I can Imagine how each minutes would make you feel, Rest in peace Etalem.

— Soli #FreeZone9ners (@Soli_GM) November 18, 2014
The number of heinous crimes that happen against women in our society is atrocious to say the least #JusticeForHanna

— HermelaLoves (@hermelasays) November 19, 2014
There should be no excuse for rape & violence against women #JusticeForHanna

— Mesky (@Mesky1) November 18, 2014
So sad and disgusted. We can't keep silent. We want #JusticeForHanna #Ethiopia

— Hanni M Mekonnen (@MissMekonnen) November 18, 2014
The rapist should be ashamed not the victims #JusticeForHanna

— Mesky (@Mesky1) November 18, 2014
As a father, I shudder to hear such a story. Sad, sad. Praying for #JusticeForHanna #Ethiopia.

— emmanuel Igunza (@EmmanuelIgunza) November 18, 2014
Utterly unacceptable!"@SodereEthiopia:#JusticeForHanna @EthiopikaLink: 16yr old #Ethiopia|n girl died after gang rape http://t.co/W95BC5Szx7

— MuradIssa (@MuradAIssa) November 18, 2014
Despicable barbaric acts of violence has led to the death of our innocent 16 years old sister/daughter/cousin/niece, #JusticeForHanna

— Abiy E (@abiyewm) November 18, 2014
#JusticeForHanna hashtag trending among #Ethiopia-n tweeps. Seems a 16 year old died after gang rape @EmmanuelIgunza @merqueen234 @alexisak

— Hewete Haileselassie (@Hewete) November 18, 2014
Hanna is My Sister My Mother My Daughter My Wife My Friend My Niece My Aunt My Cousin… #JusticeForHanna #Ethiopia pic.twitter.com/4E1yWLLR5i

— Abel Bel አቤል ቤል (@meetabel) November 18, 2014

—
Join the conversation on Twitter and Facebook.