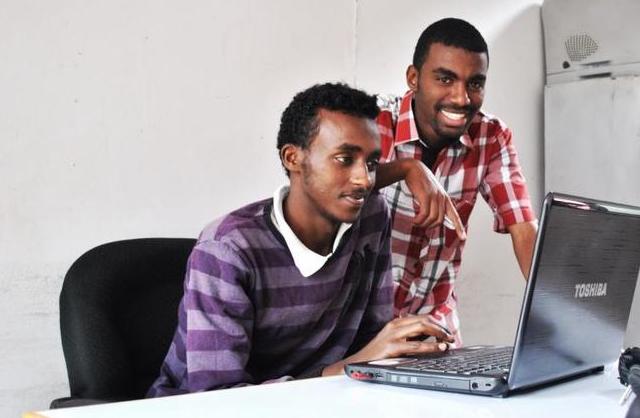 By Jacey Fortin
ADDIS ABABA, Ethiopia — I should have known my Wednesday morning phone interview wouldn't go well.
The mobile reception in my neighborhood had been spotty for days preceding my call with Andrew Rugege, the director of the Africa Regional Office at the International Telecommunications Union. I wanted to talk about information communications technology, or ICT, across the African continent — and here in Ethiopia particularly — to learn how developing countries are using technology to encourage economic growth.
But just as Rugege began to speak, the line went dead. I called back, but promptly lost the signal again. By the end of our talk, we'd had to reconnect seven times.
I had first met Rugege at a conference the week before, when he presented the findings of "Measuring the Information Society," ITU's annual report that tracks and compares ICT progress in countries around the world. Speaking in front of journalists, techies and international diplomats in a ballroom at Addis Ababa's Sheraton Hotel, Rugege had a positive prognosis for the continent. "I'm very optimistic about Africa and the potential that ICT holds for us," he said. "What countries on this continent are doing for e-commerce, for e-agriculture, for e-education — it's phenomenal."
Connectivity across the continent is indeed getting better, and African countries are making some of the biggest leaps in terms of mobile and Internet penetration. But growth is easier when you're starting from a low base — of the 157 countries surveyed in ITU's ICT Development Index, the worst-ranking 22 are all African.
Ethiopia in particular is lagging behind. Ethio Telecom, the sole telecommunications provider in the country, is owned by the government, which has no plans to open up the sector to private competition. The country came in 40th out of the 46 African nations included in the ITU report and has an Internet penetration rate of less than 2 percent, despite being home to the continent's second-largest population, the biggest economy in East and Central Africa, and a fast-developing capital city that hosts the African Union and a number of international summits.
"Although Ethiopia's ranking is very low, there's a lot of activity in Addis, and these issues happen when you have very steep growth," Rugege said during our intermittent phone conversation. "I know the government is making efforts to alleviate these problems."
Read more.
—
Join the conversation on Twitter and Facebook.