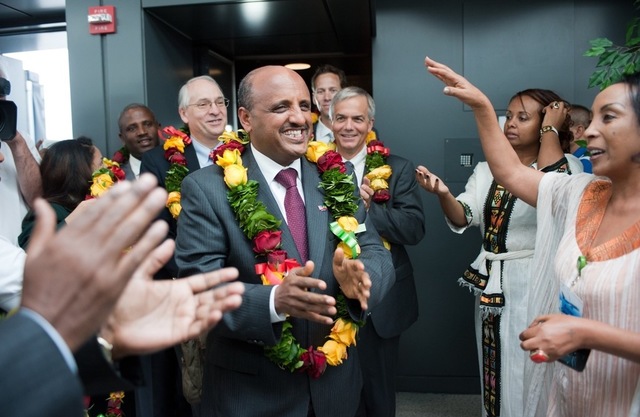 CEO Dialogue
Ethiopian Airline's chief executive Tewolde Gebremariam proves a state-owned carrier can turn profits in difficult times.
Gebremariam has warned that coming competition from Chinese airlines will force the need for consolidation among African carriers.
Speaking in the CEO Dialogue on the second day of the Africa CEO Forum in Geneva, Gebremariam, who was awarded African CEO of the Year at the inaugural Africa CEO Awards last night, said Chinese carriers have been busy serving their domestic market, but have their sights set on Africa.
"Consolidation will come, because small African carriers will find it very difficult to survive the competition," he said.
Gebremariam said that African governments and the African Union needed to do more to support African carriers, who make up only 20% of airline traffic on the continent. "At least it has to be fair share, 50%," he said.
He said good cost management, efficient aircraft utilisation and a good route network, helped Ethiopian Airlines to stay in profit, while its competitors South African Airways and Kenya Airways are struggling.
In the 2011-12 fiscal year Ethiopian made an operating profit of 1bn birr ($55m) and a net profit of 732m birr ($40m).
Continue reading at Theafricareport.com.
—
Related:
In Pictures: Ethiopian Airlines' First Dreamliner Touch Down in D.C. (TADIAS)
—
Join the conversation on Twitter and Facebook.