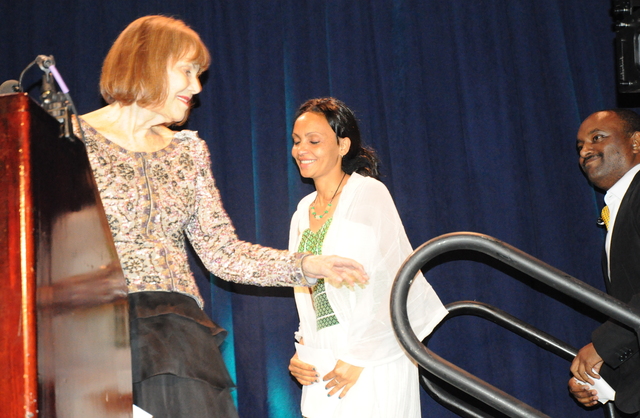 Ethiopian Court Demands Justification for Journalist's Conviction
VOA News
Marthe Van Der Wolf
ADDIS ABABA — Ethiopia's Federal Supreme Court has postponed hearing an appeal of the conviction of prominent Ethiopian journalist Eskinder Nega and opposition leader Andualem Arage. But the court gave its first indication Thursday that charges brought by prosecutors under the Anti-Terrorism Proclamation may not be that strong by demanding that prosecutors justify the June convictions.
Journalist Eskinder Nega received an 18-year sentence, while opposition politician Andualem Arage is serving life in prison on terrorism-related charges.
Andualem's lawyer, Abebe Guta, said the court has found many irregularities in the prosecution's charges.
"As they scrutinized our ground of appeal they found so many legal and factual irregularities," said Abebe. "Therefore, before the ruling passes, that means before our appeal is accepted or approved, they wanted to summon the prosecution officers to come and justify."
Maran Turner, the executive director of Freedom Now, a Washington D.C.- based organization that works on individual prisoners of conscience cases, said the latest developments are positive. Freedom Now has been supporting Eskinder and brought his case before the United Nations Working Group on Arbitrary Detention.
"It seems to me that the court also is confounded by the charges against Eskinder and the other defendants," Turner said. "So the fact that the court has postponed the case, it obviously acknowledges the flaws that we see, which is that the charges themselves are flawed. In fact, the case is flawed from the very beginning of arrest."
Eskinder, Anualem and more than 20 others were found guilty of ties to a U.S.-based opposition group, Ginbot 7, classified as a terrorist organization by the Ethiopian government.
Amnesty International and other rights advocacy groups have said the trial was a sham used to silence dissent.
The prosecution will need to justify its convictions before the court on December 19.
—
Related:
Ethiopia delays appeal of jailed blogger, opposition leader (AFP)
Lawyers: Terror case against 29 Ethiopians faulty (AP)
Video: PEN America's 2012 Annual Gala Dinner in New York Honors Eskinder Nega
—
Join the conversation on Twitter and Facebook.