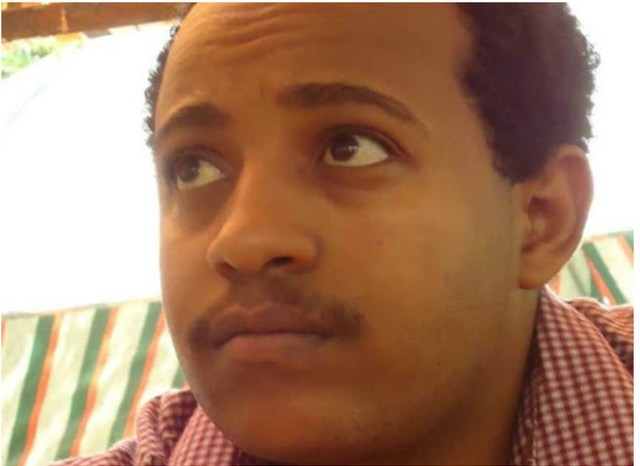 By Maura Kelly
It was in Bahir Dar where I first meet Betre Yacob. He was working as an Information, Education and Communication Coordinator with an international NGO on HIV/AIDs programs, and for the rights of women and children. Betre, a graduate of Bahir Dar University and I connected instantly when he told me he also worked as a journalist and had just started a new blog. His focus was poor people and the government's views on human rights in Ethiopia. We stayed in touch and every few months I'd receive an article and share it with HOPe and other media colleagues. At times the articles would be in English and other times they'd be in Amharic. I'm not sure when it started but sometime in 2012 the links would arrive blocked or the stories blacked out. Then Betre told me he decided to leave the NGO because his articles were drawing unwarranted government attention and he did not want the organization to suffer any negative effects. He had decided to become a journalist full time.
Life as a journalist
Working as an independent journalist in Ethiopia is a particularly difficult undertaking and Betre is one of hundreds of media workers who has been harassed and threatened to the point that he is now in self-imposed exile outside the country.
In 2012, Betre got assignments with various media outlets and covered local human rights violations and the state of Ethiopian media for the Italian website, AssamanInfo, the Ethiopian magazine, Ebony (both have since closed down) and The Daily Journalist. He also co-authored a book entitled "Nipo nipo tu" a collection of short stories illustrating socio-economic problems in Ethiopia.
"Ethiopia is a dangerous place to be a journalist" reported Betre. To garner support he helped launch and later became president of the Ethiopian Journalists Forum (EJF), an independent journalist association working for freedom of the press with over 30 journalists as members. "However, since its beginning EJF has been seen as an enemy by the Ethiopian government and has faced many accusations, " he stated.
Read more at The Huffington Post »
—
Join the conversation on Twitter and Facebook.