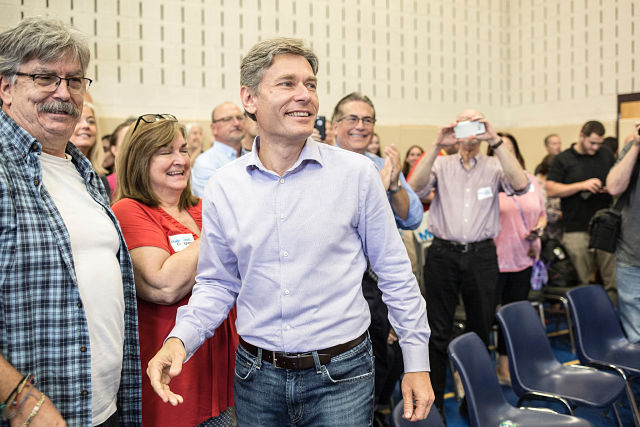 The New York Times
Obama Alumni Return to Washington, This Time as House Freshmen
WASHINGTON — Their previous jobs have taken them to the Oval Office, the Situation Room and the Senate floor. One met with a Saudi king and plotted strategy to fight the Islamic State. Another cracked down on human rights abuses in North Korea. Their Rolodexes are flush with former cabinet members and current Pentagon officials who are happy to take their calls.
Nearly a dozen members of the House's incoming class are far from being gawky freshmen, stumbling wide-eyed through the strange corridors of Capitol Hill, but are instead experienced policymakers who have worked in previous presidential administrations — seven of them for former President Barack Obama. Their return to Washington is, in part, a way to undo what they see as the unspooling of the values and legacy of the nation's 44th president…
"This is a group that has really seen it all," said Eric Lesser, a former Obama White House aide who is now a state senator in Massachusetts. "They're just not going to be intimidated."
A pair of them, Elissa Slotkin of Michigan and Mr. Malinowski of New Jersey, have previously tussled with Congress. Ms. Slotkin, a former C.I.A. officer who served three tours of duty in Iraq and informed the nation's strategy against the Islamic State, appeared before the Senate for her confirmation hearing as a nominee for assistant secretary of defense to Mr. Obama. (She also served under George W. Bush.)
Mr. Malinowski, who helped levy sanctions against North Korean officials for human rights abuses, was confirmed as assistant secretary of state after receiving lavish praise from Senator John McCain. Another incoming member, Haley Stevens of Michigan, was once in charge of Mr. Obama's Senate confirmations and cabinet designations.
Read the full article at NYTimes.com »
—
Related:
Alex Assefa, Joe Neguse & lhan Omar: Ethiopian, Eritrean & Somali Make History in 2018 US Election
Democrats Capture U.S. House Majority in Rebuke to Trump
Watch: Historic Record number of women heading to U.S. Congress
Join the conversation on Twitter and Facebook.