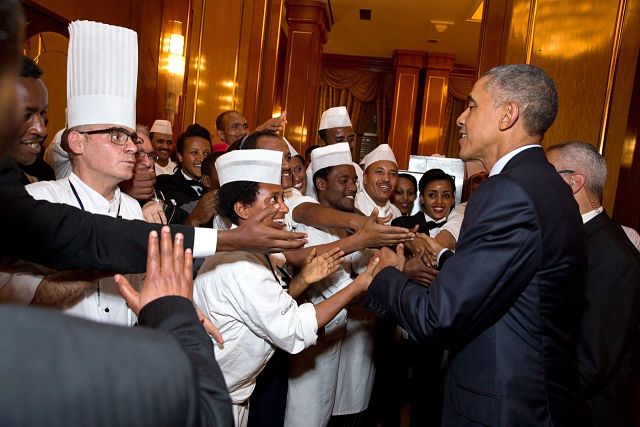 USA TODAY | Published July 27, 2015
Obama talks about security and human rights in Ethiopia
ADDIS ABABA, Ethiopia — President Obama pressed the government of Prime Minister Hailemariam Desalegn on Monday to ease restrictions on free speech, the press and political opposition in the impoverished East African nation.
"When all voices are being heard, when people know they are being included in the political process, that makes a country more successful," Obama said at a joint news conference with Desalegn.
Later Monday, Obama and representatives from the 54-nation African Union, headquartered here, met to discuss terrorism, human rights and regional security issues.
The White House said most of the discussion focused on neighboring South Sudan, which has been embroiled in a bloody civil war since December 2013. Before the meeting, Obama said that "conditions on the ground (in South Sudan) are getting much, much worse."
South Sudan, which became a nation in July 2011, has until Aug. 17 to accept a peace and power-sharing agreement between warring government factions. Most of the discussion Monday focused on how to get an agreement next month, and some participants talked about sanctions or military intervention if the warring parties fail to settle their differences, the White House said.
Obama's visit to Ethiopia is a first by a sitting U.S. president, and the second country on a two-stop tour that began in neighboring Kenya, the nation where his late father was born.
Around this capital city, security was tight, with roadblocks on major thoroughfares and residents — as in Kenya — ordered to stay home and out of the downtown area. Even so, residents came out in force, hoping to take photos of Obama as he drove by.
"I'm heading to town on foot to try my luck if I can see President Obama passing," said Aluka Kemal, 35, a businessman who lives in the neighborhood of Gulele.
Around a market area at the northern end of Churchill Avenue, hundreds of people lined the streets waving both American and Ethiopian flags. Some held posters of Obama, chanted his name and sang songs.
Ethiopia's economy has been growing by nearly 10% annually in recent years but remains one of Africa's poorest nations, with unemployment around 17%. It is the second-most populous country in Africa, after Nigeria, and faces a threat from al-Shabab militants based in neighboring Somalia. Ethiopia has taken part in regional military operations against the group.
President Obama is now the first sitting US President to visit Ethiopia. He arrived at the National Palace to meet with that country's Prime Minister on Monday. (July 27) AP
Human rights organizations say the government has used its war against terror to clamp down on political opposition groups and basic freedoms. Ethiopia is the world's second-worst jailer of journalists in Africa, according to the Committee to Protect Journalists.
Ahead of Obama's arrival, the government released several journalists and bloggers it had been holding since April 2014 on charges of incitement and terrorism. Many others remain in detention.
Ben Rhodes, White House deputy national security adviser, said Obama's visit is not a sign of approval of Ethiopia's human rights record.
Photos: President Obama Becomes First Sitting U.S. President to Visit Ethiopia
—
Related:
Obama Alumni Return to Washington, This Time as House Freshmen
Alex Assefa, Joe Neguse & lhan Omar: Ethiopian, Eritrean & Somali Make History in 2018 US Election
Democrats Capture U.S. House Majority in Rebuke to Trump
Watch: Historic Record number of women heading to U.S. Congress
Join the conversation on Twitter and Facebook.