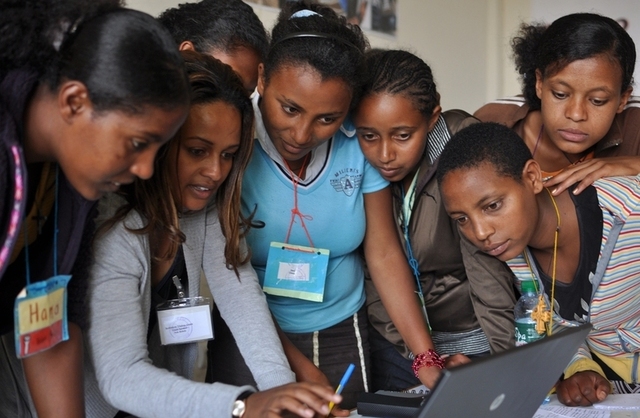 Tadias Magazine
By Tadias Staff
Updated: Friday, December 9, 2011
New York (TADIAS) Last year, Mayor Michael Bloomberg launched the NYC Venture Fellows program, designed to connect promising entrepreneurs from around the world with mentors and investors from leading companies. The fellowship encourages national and international start-ups to locate and grow their businesses in New York City. The class of 2012 includes Bethlehem Tilahun Alemu, the Founder & Managing Director of SoleRebels — a fair trade certified green footwear company based in Ethiopia.
Bethlehem, who was born and raised in one of Addis Ababa's most impoverished neighborhoods (Zenabwok, Total area), established SoleRebels in 2005 hoping to increase employment in her community. SoleRebels has not only created hundreds of local jobs, but it has since become an internationally recognized eco-fashion brand.
"Bringing SoleRebels directly to consumers worldwide is an integral part of our revenue and brand growth strategy," Bethlehem said in a recent interview with Tadias Magazine. "With our unique focus on eco-sensible, recycled products as well as cultural artisan crafting, we feel strongly that it will excite footwear customers globally for a long time to come."
The SoleRebels brand is offered online through both Amazon and Endless.com, as well as through the company's own e-commerce website. Its products are also sold via brick-and-mortar locations like Urban Outfitters, a boutique in Addis, and a shared retail space in Asia. "We have implemented franchise agreements in Taiwan that opened two weeks ago," Bethlehem said. "And we have franchise proposals for Australia, Italy, Canada, Israel, Spain, Japan and the United States."
Bethlehem estimates the retail roll-out will generate over $10 million in revenue by 2016. "We feel strongly that people all over the planet want comfy, stylish and unique value priced footwear" she said.
What makes SoleRebels unique? "In three words: authenticity, style and value," Bethlehem told us. "At our core we are artisans who aim to create the coolest and most comfortable footwear. We do this by combining our heritage with modern design sensibilities."
SoleRebels shoes are made by hand using indigenous practices such as hand-spun organic cotton and artisan hand-loomed fabric. Tires are also recycled and used for soles. "The process is zero carbon production because historically that is the way it's been done in Ethiopia," she said.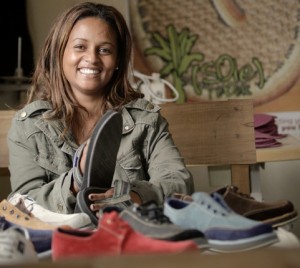 Bethlehem has garnered international recognition, and earlier this year was also named one of the World Economic Forum's Young Global Leaders. In that role Bethlehem has been tasked to launch a program in Ethiopia called Global Shapers as a key initiative to create opportunities for the youth. With Addis Ababa preparing to host the 2012 World Economic Forum Africa meeting, the Global Shapers community will be able to collaborate with the Forum of Young Global Leaders while operating out of more than 75 city hubs – from New York to Mexico City, Johannesburg to New Delhi, and Addis Ababa to Adelaide.
"I have created a strategy to build our Global Shapers community by selecting my group based on input through outreach conducted via social media," she said. "Under the title 'Come Change Your World' I am inviting individuals to express why they, or someone they know in the greater Addis Ababa area, should be chosen as a Global Shaper." The process of outreach and selection includes gathering real-time input, insights and feedback. Global Shapers can jumpstart their entrepreneurial careers by interacting with Young Global Leaders, social entrepreneurs, technology pioneers, foundations members, global agenda councils and more. Bethlehem is also selecting one Global Shaper to address the upcoming annual World Economic Forum in Davos, Switzerland.
Mayor Bloomberg is scheduled to address the 2012 New York City Venture Fellow program at a gathering here this month. As a Fellow, Bethlehem said, "I feel strongly that this is an amazing opportunity to take SoleRebels to the next level."
—
Update:
Sole Rebels Wins 2011 Africa Awards for Entrepreneurship (Click here to view photos)
Related links:
NYC Venture Fellows
Come Change Your World on FaceBook
SoleRebels' e-commerce website
World Economic Forum
–
Related Videos:
CNN Video: Turning old tires into shoes (7:10)

CNN Video: Young SoleRebel (8:07)

CNN Video: Creating window to world market (7:24)