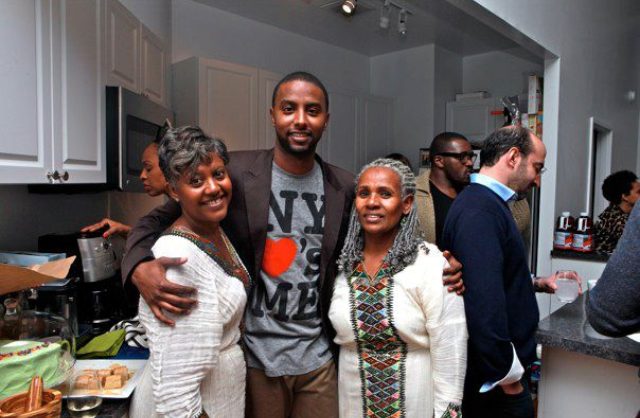 Tadias Magazine
By Tseday Alehegn

Published: Friday, December 9, 2011
New York (TADIAS) – We recently spotted a selection of ready-made Ethiopian vegetarian food at a natural food market in midtown Manhattan and learned of Hiyaw Gebreyohannes' Taste of Ethiopia brand. The organic misir wot, cabbage and greens, along with gluten-free injera is now available at grocery chains such as Fairway as well as in food co-ops and smaller markets.
Hiyaw was born in Djibouti. His parents walked for 17 days before crossing from Ethiopia into Djibouti, and they stayed there till Hiyaw turned one-year-old. In the 1980s his family moved to Toronto, Canada and eventually opened two Ethiopian restaurants — Blue Nile and King Solomon. Hiyaw says he literally grew up in the kitchen.
"There were hardly any Abesha people in Toronto in the 1980s and I spent many nights at our restaurant with the family," he said. "There even was a bed in the large coat check room, and another bed at the back of the bar. I spent a lot of time at the restaurant and grew up around Abesha food."
When Hiyaw's mom moved to Michigan and opened two restaurants there, Hiyaw ran and operated an African fusion restaurant called Zereoue in New York. He then took a year off to travel, going twice to Ethiopia before experimenting with packaging Ethiopian food in Michigan.
"I knew that I wanted to focus on Ethiopian food, and I knew I didn't want to work in another restaurant," he told us. When the packaged food venture succeeded in Michigan he told himself it was a no-brainer to introduce the concept in New York.
Taste of Ethiopia currently offers vegetarian Ethiopian cuisine. The organic cabbage, carrot, and collard greens are sourced locally from farms in upstate New York while Ethiopian spices such as Berbere are imported from Ethiopia.
"I've tried to stay as close to my mom's recipes, and not to lose the flavors of the cuisine," Hiyaw pointed out. "But I'm also focused on using the freshest ingredients."
Hiyaw would like his brand to be more than just the sharing of ready-made Ethiopian food. "A big part of why I did this includes the fact that as Americans we don't eat well," he noted. "It's such an irony that Ethiopia is not known for food. Ethiopian food is nutritious and healthy."
When thinking of how to grow his business, Hiyaw not only looks at being able to have Taste of Ethiopia products on Whole Foods shelves, but also to encourage school boards to be part of the initiative of getting healthy food into schools. He mentions that his goals are reflective of national health promotion campaigns such as First Lady Michelle Obama's anti-obesity 'Let's Move' program.
"With Taste of Ethiopia," Hiyaw said, "we're also talking about a social aspect, of changing how we eat to a more healthier alternative." Hiyaw is also looking to hire within the community as his business grows.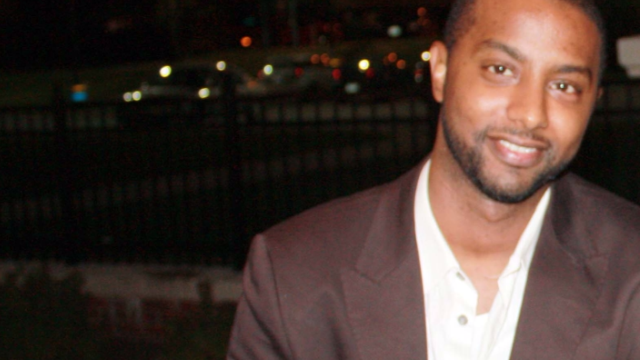 Hiyaw Gebreyohannes. (Courtesy photo)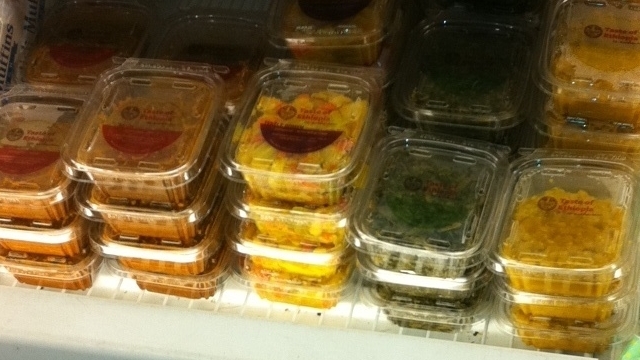 Taste of Ethiopia on display at a market. (Courtesy photo)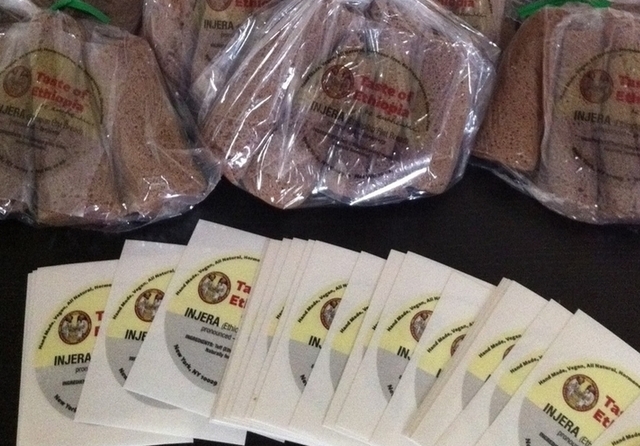 The Taste of Ethiopia brand. (Courtesy photo)
Describing the competition in the food packaging industry Hiyaw admitted, "It's definitely hard. It's not just about cooking the food. If you don't have the right labels, right look, right marketing, if it's not on the right shelves then it doesn't really matter what you have inside the container, no one would try your food." Having said that, however, he knows that the market is large and there is space to work hard, make good connections with buyers, and succeed immensely.
Hiyaw mentioned Cafe Spice (distributors of packaged Indian food) as a model success story. "They started from being a mom-and-pop restaurant in New York and became a $100 million business operating out of a 60,000 square foot state-of-the-art kitchen and distributing their products across the nation," he said. "I'm only in the beginning stages, but I look at businesses such as Cafe Spice when I'm working to expand my business."
In terms of mentors Hiyaw feels blessed to have learned from his mom and family. "I have so many wonderful women in my life — mom, aunt, sisters," he shared. One doesn't usually find too many Abesha men in the kitchen environment, but he says his mother was instrumental in making him feel comfortable and teaching him how to cook Ethiopian food. "I don't only cook Ethiopian, I also do a lot of traveling and I try cooking food from different regions. All this comes from being comfortable in the kitchen." As far packaging Ethiopian food in particular, Hiyaw said: "I'm going to venture out there and say that I think I'm the only person doing this. For this avenue I don't necessarily have someone that I can look up to."
Grocery chains and natural food stores have been interested in selling Taste of Ethiopia products and Hiyaw is careful about his limitations when it comes to distribution.
"There are challenges in negotiations and making sure that you're not over-scaling what you can do," he said. "Sometimes people are afraid that if they don't say 'yes' they may lose the opportunity, but if you do say yes and then you don't produce the amount agreed upon then you've closed the door completely."
Right now Hiyaw wears many hats. "I'm owner and assistant and cook. It's all about being humble, not being scared, and doing the hard work," he told us. "I've learned this from my mom. She did everything — cooking, washing. She was the first one to get to the restaurant and the last one to leave. I've modeled my business after her restaurant." Hiyaw's brand is named after his mom's restaurant in Michigan (also called Taste of Ethiopia) and whose motto is: "Be Authentic."
Hiyaw also credits his mom's entrepreneurial spirit for igniting the same passion in him. "I told my mom at age 10 or 11 that I'd never work for anybody, and I've had a few jobs, but never one that was 9 to 5," he said. "So my mom plays a big role. All I've ever seen her do is her own business. Being right there at the table. It's a great thing as an entrepreneur to sit at the table."
Like any business Taste of Ethiopia also has its own set of challenges,but Hiyaw also sees the challenge as a moment of opportunity. "Rejection, failure — these things motivate me further. It's thrilling to be able to watch problems and scenarios play out and then see the end results," Hiyaw said. He is also heartened by the opportunity to share his work with the community. "When I get phone calls like this," he added "it's wonderful that someone wants to hear what my story is."
Hiyaw also mentioned the recent cartoon episode featuring Ethopian cuisine. "Did you the see the Simpson's episode? I am most proud that Abesha food can be shown in a different light. I grew up listening to Ethiopia being equated with famine, and being so self-conscious, I didn't want to have the smell of spices from the restaurant on my jacket. I preferred french fries and hamburgers. Now that has changed."
In addition to selling Taste of Ethiopia products Hiyaw also regularly organizes underground dinners, which consist of invite-only meals prepared and served at various non-restaurant locations. One theme, for example, was the communal table and the sharing of food from several African countries. Hiyaw sees this as an opportunity to get invited guests to open their senses and experience new food cultures. Hiyaw is also working on launching a food truck to further promote his business. "At the end of the day, it's all about good food, great packaging, and hard work" he said.
Taste of Ethiopia products are currently available for purchase in the following New York locations: Fairway, Foragers Market, Park Slope Food Co-op, Westerly Market, Westside Market, Union Market (in Brooklyn), Integral Yoga Natural Food Store, and Blue Apron. Gourmet Garage and Dean & Deluca (on Spring St) will start carrying Taste of Ethiopia in the new year, with hopefully many more stores as well.
—
Tseday Alehegn is Co-Founder and Editor-in-Chief of Tadias Magazine.