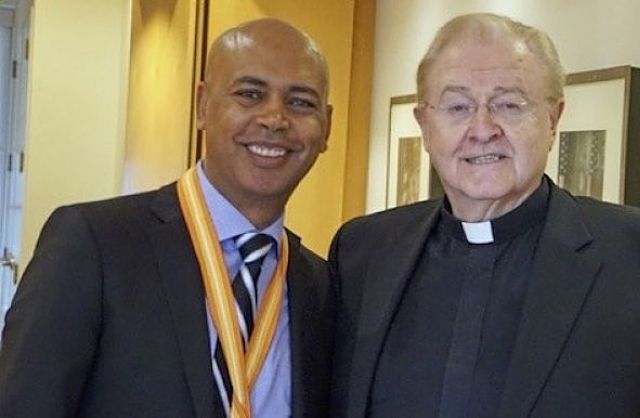 Baltimore Post Examiner
WASHINGTON – Tefere Gebre, a stalwart of the cause of organized labor, was given a "Roving Ambassador for Peace" award in a ceremony, near Capitol Hill on Tuesday.
Gebre, a native of Ethiopia, is an Executive Vice-President of the AFL-CIO. According to the program notes, he became in 2013, the "first immigrant, political refugee, black man and local labor council leader elected as a national officer of the AFL-CIO."
In 1975, at age 13, Gebre was forced to leave his native homeland. Ethiopia was being ripped apart by warring factions. He walked hundreds of miles across the desert to reach a safe haven in the Sudan. From there, Mr. Gebre was blessed by gaining "refugee status" and soon emigrated to America, and then to Los Angeles, California.
The award ceremony was held in the headquarters of the AFL-CIO, on the eighth floor, at 815 16th Street, NW, with a splendid view of the White House and Washington Monument. There was close to a capacity audience in attendance.
There are 12.5 million members of the AFL-CIO. The national union is governed by its Executive Council with its long term President, Richard Trumka at the helm; along with his second in command, Liz Shuter. She holds the office of Secretary-Treasurer and is also a leader of the International Brotherhood of Electrical Workers. Mr. Gebre is now the third-ranking leader of the AFL-CIO.
Friends and family members of the honoree, Mr. Gebre, were in attendance. They were joined by officials of the AFL-CIO, staff members and office workers. Last year peace prize winner, Elizabeth "Liz" Powell, Secretary-Treasure of the American Postal Workers Union was there, as was Fred Mason, the President of the Maryland State and D.C., AFL-CIO. He is also a well-known social justice activist in Maryland, particularly, in Baltimore, Annapolis, and in the District of Columbia as well.
—
Related:
Ethiopian-American Tefere Gebre Re-elected Executive VP of AFL-CIO
Join the conversation on Twitter and Facebook.