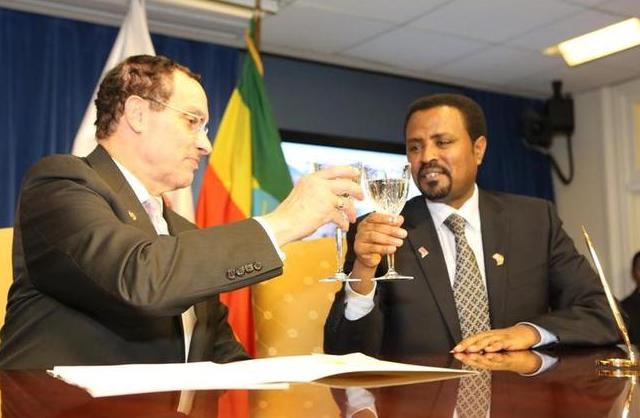 Tadias Magazine
Events News
Published: Thursday, December 12th, 2013
Washington, D.C. (TADIAS) — Mayor Vincent Gray and Addis Ababa mayor Diriba Kuma signed a Sister City Agreement on Wednesday evening (December 11th) laying the groundwork for a closer relationship between residents of the two cities. In a press release the DC Mayor's office stated that the agreement will be in force for a period of five years focusing on mutual interests including economic development, information exchange, cultural education and youth engagement.
"Inspired by the District's vibrant Ethiopian diaspora and by the similarities shared by our two capital cities, I am proud today to call Addis Ababa the District's newest Sister City," Mayor Gray said. " I am deeply grateful to the members of the Ethiopian community for their contributions to the District and view this signing ceremony and the partnering of our two cities as an opportunity for the residents of these two great capital cities to enrich each other culturally, educationally, economically and in quality of life."
The Mayor added: "With such a large Ethiopian community right here in the District, the signing of this Sister City Agreement presents an unprecedented opportunity for the District and Addis Ababa to work and grow together, and I am very excited about the prospects of our bright future. These important agreements help to foster the international ties that strengthen civil society and goodwill between nations. I look forward to our fruitful collaboration and thank Mayor Kuma for visiting our great city for this truly special occasion."
Addis Ababa is Washington, D.C.'s fourteenth sister city including Bangkok, Thailand; Dakar, Senegal; Beijing, China; Brussels, Belgium; Athens, Greece; Paris, France; Pretoria, South Africa; Seoul, South Korea; Accra, Ghana; Sunderland, U.K.; Rome, Italy; Ankara, Turkey; and Brasília, Brazil.
Belwo are photos. Stay tuned for video coverage of the event.

—
Related:
Photos: 2nd Annual DC to Africa Business Symposium
Join the conversation on Twitter and Facebook.