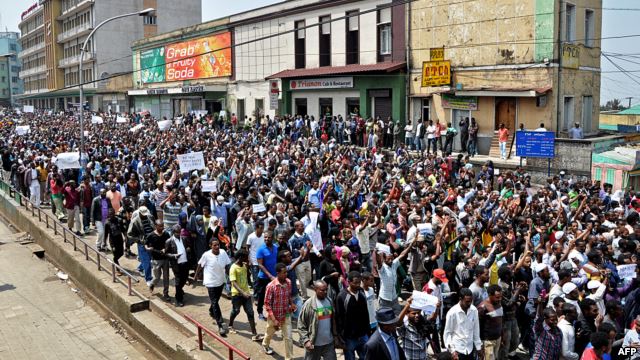 By William Davison December 11, 2014
Ethiopian authorities released on bail about 80 activists, including the head of an opposition group, arrested while protesting for fair campaigning in 2015 elections, a Blue Party spokesman said.
Security forces made arrests on Dec. 5 when members of the Blue Party and eight other opposition groups took to the streets of the capital, Addis Ababa, to call for greater freedom to hold meetings and rallies, Yonatan Tesfaye Regassa, the party's head of public relations, said by phone.
Organization leader Yilkal Getnet was among those freed, while four other opposition members are still detained, possibly because they refused to co-operate with investigators, according to Yonatan. Investigations into the activists continue, he said.
Read more at Bloomberg News »
—
Join the conversation on Twitter and Facebook.