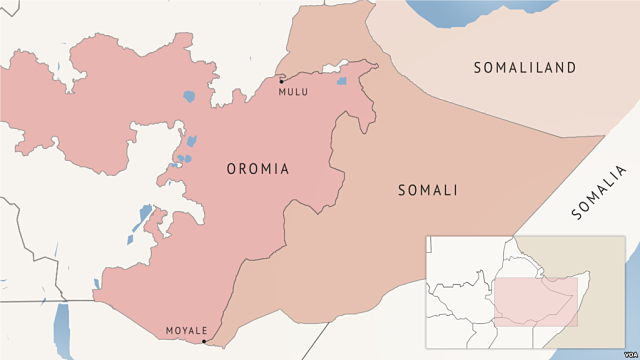 Updated: 18 December 2017
At least 61 people have been killed in clashes between different ethnic groups in Ethiopia's Oromia region since Thursday, officials said.
It is not clear what caused the latest violence between ethnic Somalis and Oromos.
But it comes after soldiers shot dead 16 ethnic Oromos at a protest on Tuesday, reports Reuters news agency.
Ethiopia's Oromia and Somali regions share a long internal border and in the past have fought over grazing land.
Oromia government's spokesperson, Adisu Arega, announced the deaths on his Facebook page.
He said 29 ethnic Oromos were killed between 14 and 17 December and 32 ethnic Somali Ethiopians were killed in revenge attacks.
He added that the clashes happened in the region's Hawi Gudina and Daro Lebu districts.
What is behind the long-running conflict?
—
Related:
Hundreds of thousands of displaced Ethiopians are caught between ethnic violence and shadowy politics (PRI)
Ethiopia's Contradiction: Ethnofederalism or Federalism?
Join the conversation on Twitter and Facebook.