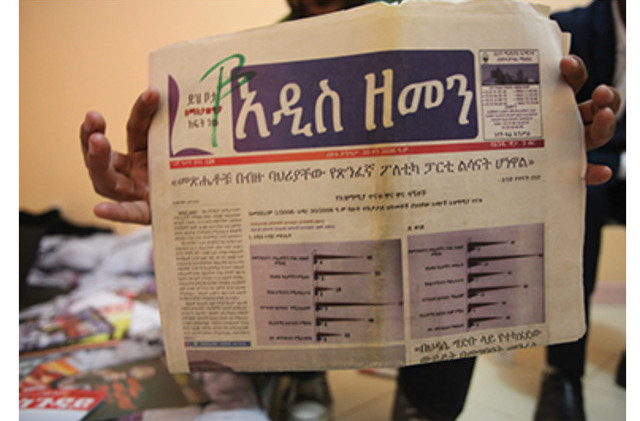 By Nicole Schilit/Journalist Assistance Associate
A sharp increase in the number of Ethiopian journalists fleeing into exile has been recorded by the Committee to Protect Journalists in the past 12 months. More than 30–twice the number of exiles CPJ documented in 2012 and 2013 combined–were forced to leave after the government began a campaign of arrests. In October, Nicole Schilit of CPJ's Journalist Assistance program and Martial Tourneur of partner group Reporters Without Borders traveled to Nairobi in Kenya to meet some of those forced to flee.
The group of reporters, photographers, and editors we met had all been forced to make a tough decision that has affected them and their families–a life in exile or prison. All of the journalists spoke to CPJ on condition of anonymity, out of concern for their safety. During meetings to discuss their cases, one of them told us: "I hope one day I can bring my family. Maybe in the future. I want to secure myself first. Now is not secure."
Since July, a large number of Ethiopian journalists have left behind their families, homes, and a steady income to seek safety. The reason for this sharp increase is a government crackdown on the independent media. In January, the state-controlled Ethiopian Press Agency and Ethiopian News Agency carried out a study to "assess the role of [seven] magazines in the nation's peace, democracy and development." The results were illustrated in two charts that claimed the magazines were promoting terrorism and damaging the economy.
Read more at cpj.org »
—
Related:
2014 Census: Ethiopia Again Ranks Among the Worst Jailers of Journalists in the World
Join the conversation on Twitter and Facebook.