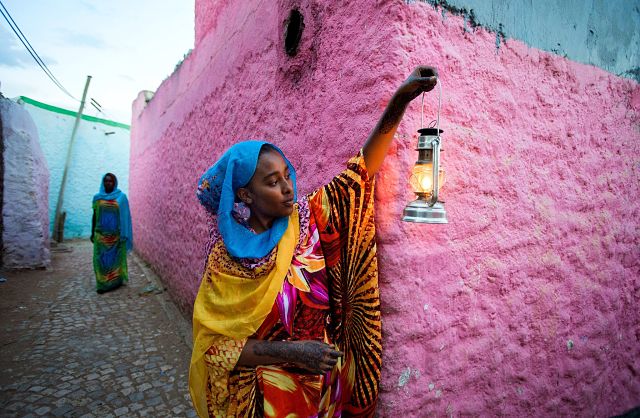 Tadias Magazine
By Tadias Staff
Updated: January 1st, 2018
New York (TADIAS) — Ethiopia's beautiful ancient city of Harar has been selected by the editors of National Geographic magazine as among the best places in the world to visit in 2018.
Harar — a UNESCO World Heritage Site recognized in 2006 for its cultural heritage — is home to many mosques some of which date back to the 10th century as well as over a hundred shrines for saints. Harar's historical architectures include the famous five gates of the city, the Medhane Alem Cathedral, Jami Mosque built in the 16th century, and the residence of Haile Selassie's father, Ras Mekonnen who served as Governor.
Ethiopia's colorful and ancient city of Harar is also considered the fourth holiest city in Islam and known as the City of Saints. "From the late 16th century to the 19th century Harar was an important trade centre between the coast and the interior highlands and a location for Islamic learning" UNESCO states. The city's "townhouses with their exceptional interior design constitute the most spectacular part of Harar's cultural heritage. The impact of African and Islamic traditions on the development of the town's building types and urban layout make for its particular character and uniqueness."
Along with the city of Harar, National Geographic recommended Sydney, Australia; Oaxaca, Mexico; Vienna, Austria; Hawaii, USA; Dublin, Ireland; Cleveland, Ohio, Ruaha National Park, Tanzania and San Antonio, Texas as top places to visit in 2018.
"Tourists in northern Ethiopia rarely travel to the laid-back east, anchored by the enchantingly contradictory city of Harar," the National Geographic notes. "The 'City of Saints' boasts 82 mosques, as well as Ethiopia's best beer, strongest khat (an ubiquitous narcotic plant), and highest quality coffee."
Read the list at nationalgeographic.com »
—
Join the conversation on Twitter and Facebook.