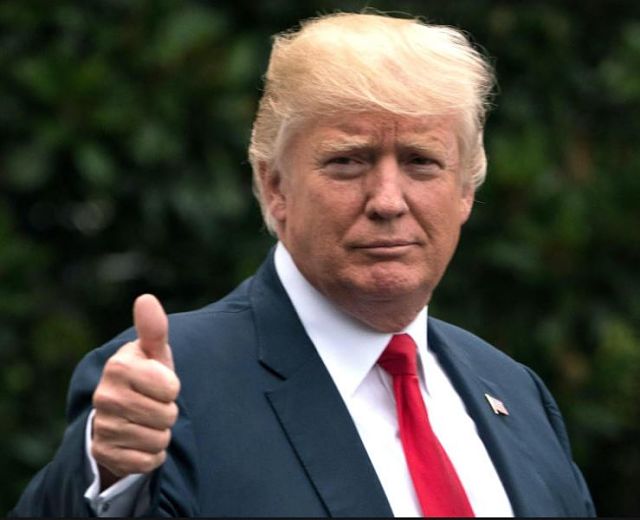 Trump shifts US Africa policy away from human rights
US President Donald Trump's newly-unveiled National Security Strategy has shifted America's engagement with Africa away from human rights, good governance, trade and development to one that merely sees the continent as a market for US goods and services.
Mr Trump also depicts Africa as a competitive arena in which US interests are pitted against those of China.
"Africa contains many of the world's fastest growing economies, which represent potential new markets for US goods and services," the Trump plan states in the slightly more than one page it devotes to Africa.
"The demand for quality American exports is high and will likely grow as Africa's population and prosperity increase," the paper adds.
The Trump team's global strategy outline, which can be viewed as a roadmap for US foreign policy in the coming years, makes only a single reference to human rights in its 55 pages.
This was an exceptionally low figure compared to Barack Obama's mention of human rights 16 times in a 29-page strategy document his administration issued in 2015.
Mr Trump's America-first approach to global trade involves an explicit determination to outpace China, which the president regards as the US' top economic rival.
This worldview comes into focus in the Africa chapter of the national security strategy, which sees China as expanding its economic and military presence in Africa, "growing from a small investor in the continent two decades ago into Africa's largest trading partner today."
"Some Chinese practices undermine Africa's long-term development by corrupting elites, dominating extractive industries, and locking countries into unsustainable and opaque debts and commitments," the strategy document says.
It also frames an envisioned US shift from "assistance to partnerships" in Africa as an altruistic alternative to what it sees as China's self-serving aims.
"We will offer American goods and services, both because it is profitable for us and because it serves as an alternative to China's often extractive economic footprint on the continent," the Trump strategy declares.
This newly formulated Africa policy blueprint paraphrases the business-centred comments Mr Trump made in an address in September to a group of African heads of state [including Ethiopia] attending the United Nations General Assembly session in New York.
Citing Africa's "tremendous business potential," Mr Trump told that audience that he had "so many friends going to your countries trying to get rich. I congratulate you, they're spending a lot of money."
Terrorism and migration are also cited as key US concerns in the strategy document's Africa section. "Improved governance in these states supports economic development and opportunities, diminishes the attraction of illegal migration, and reduces vulnerability to extremists, thereby reducing instability," the outline states.
—
Related:
Meet Trump's Top Africa Official, Former Ambassador to Ethiopia Donald Yamamoto
New Study on Trump Administration's Impact on U.S.-Africa Relations
What Key 19-Year Timeline of U.S. Human Rights Reports on Ethiopia Show
Join the conversation on Twitter and Facebook.