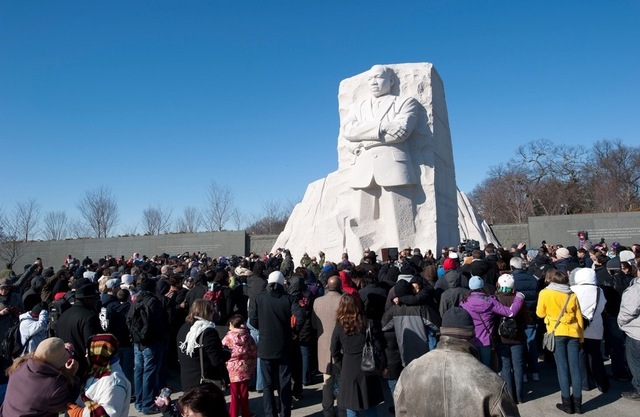 Tadias Magazine
By Tadias Staff
January 15th, 2018
New York (TADIAS) — This month an exhibition by Washington, DC-based Ethiopian American photographer Gediyon Kifle opens at East Tennessee State University's Reece Museum honoring the legendary U.S. civil rights leader Dr. Martin Luther King Jr.
The exhibition entitled Finite Disappointment/Infinite Hope is "composed of three elements – photography, sound and architectural installation – that Gediyon Kifle says are meant to inspire viewers by reflecting King's principles of love, justice, democracy and hope," states the announcement.
The show's title is derived from a Martin Luther King, Jr. quote: "We must accept finite disappointment, but never lose infinite hope."
Gediyon, who is a graduate of East Tennessee State University (ETSU), is the official photographer of the Martin Luther King Jr. Memorial in Washington, D.C.
We featured Gediyon's photography work of Dr. King's Memorial in Washington DC in an interview six years ago this month. By then Gediyon had worked on the project for more than a decade "photographing everything from the design competition to the dedication by President Obama," he told Tadias.
"I was initially hired to document the submitted design competitions — that's how my relationship with the foundation started" Gediyon added. "It has been a great privilege to witness the process with my own eyes through three presidents including President Clinton and President Bush."
Gediyon who was born in Ethiopia came to the United States with his family when he was 10 years old. He grew up in Washington, D.C. and later attended ETSU where he earned his degree in Mass Communication with a minor in photography. The announcement notes that "while at ETSU, he was the first recipient of the university's Student/Faculty Collaborative Research Grant and worked as a photographer in the Office of University Relations. A portfolio of his study on interracial relationships in the Tri-Cities is among the collections in the Archives of Appalachia in ETSU's Center for Appalachian Studies and Services."
Gediyon says Finite Disappointment/Infinite Hope is "a journey through my eyes as a photographer."
Watch: Gediyon Kifle discusses his exhibition with WJHL News Channel 11
—-
If You Go:
An opening reception and curator's talk by Gediyon Kifle will be held Thursday, Jan. 18, from 5-7 p.m. at Reece Museum. The exhibit and reception are free and open to the public. Regular Reece Museum hours are Monday-Friday from 9 a.m.-4:30 p.m. The show will be on display through March 23, 2018. For more information, call the museum at 423-439-4392 or visit www.etsu.edu/reece.
Related:
Photographer Gediyon Kifle's Tribute to Nelson Mandela
Boxing Legend Muhammad Ali: Reflection by Photographer Gediyon Kifle
Join the conversation on Twitter and Facebook.