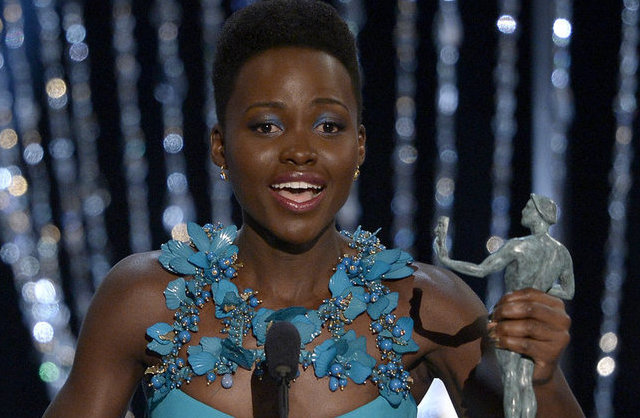 UPDATE: Lupita Nyong'o Wins Screen Actors Guild Award
AP/CBS News: Updated January 18th, 2014
Stars stepped out Saturday night for the 20th annual Screen Actors Guild Awards at the Shrine Auditorium in Los Angeles in hopes of walking away with an honor.
The first award of the night — best supporting actress — went to Lupita Nyong'o of "12 Years a Slave."
She thanked McQueen "for taking a flashlight and shining it underneath the floorboards of this nation and reminding us what it is we stand on." The Kenyan actress, who has been hailed for her red-carpet grace this awards season, recalled her celebratory phone call to her father when she got the part – her first feature film.
"'Daddy, do you know who Brad Pitt is? I'm going to be in a movie with him!'" recalled Nyong'o. "And he said, 'I don't know him personally, but I'm glad you got a job.'"
Watch: Lupita Nyong'o acceptance Speech at 20th annual screen actors Guild awards 2014

—
Lupita Nyong'o: US-based Kenyan Actress Takes Hollywood by Surprise
Tadias Magazine
News Update
Published: Friday, January 17th, 2014
New York (TADIAS) — New York-based Kenyan actress and film director Lupita Nyong'o is well on her way to becoming a household name in Hollywood. She won this year's Critics' Choice Movie Awards – Best Supporting Actress prize for her successful debut role in Steve McQueen's 12 Years a Slave released in 2013. She is also nominated for the Screen Actors Guild (SAG) Awards Supporting Actress and the film industry's most coveted Oscar nomination as well.
Lupita who currently lives in Brooklyn with her brother is the second of six children. She was born in 1983 in Mexico where her family were political refugees. The family repatriated to Kenya when she was less than one year old. Her father is currently serving in the Kenyan Senate representing Kisumu County.
In 2011, Lupita's cousin Isis Nyong'o was named one of 20 youngest power women in Africa by Forbes Magazine.
Watch: Lupita Nyongo WINS Critics Choice Awards 2014

—
Related:
The Fiercest Oscar Face-Offs of the Year
Meron Getnet Listed in '10 Actors to Watch Out For' at Sundance 2014
Sundance: Angelina Jolie Joins Ethiopian Pic 'Difret' as Executive Producer
Feature Film Difret Selected for 2014 Sundance Film Festival
Join the conversation on Twitter and Facebook.