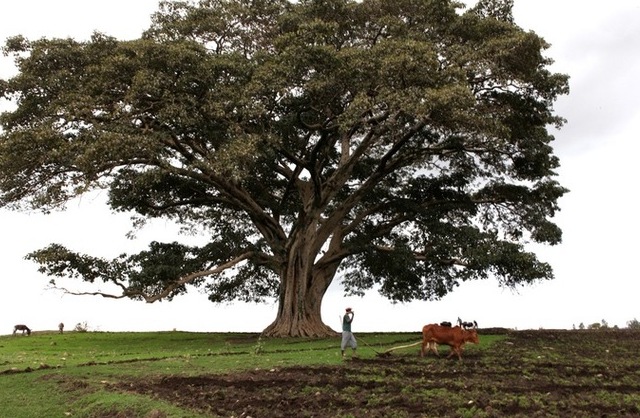 Tadias Magazine
By Tadias Staff
Published: Thursday, December 5th, 2013
New York (TADIAS) — A new Ethiopian feature film Difret (formerly titled Oblivion) has been selected to be screened at the 2014 Sundance Film Festival under the World Cinema Dramatic Competition category. The film was selected for next year's festival out of 2,043 international submissions. A total of 118 feature-length films were chosen, representing 37 countries. "This is a huge vote of confidence in our film and the years of hard work we've put into making it," the Ethiopian filmmakers said in a statement. "Sundance is the most important film festival in the USA and we are incredibly honored to have the world premiere of DIFRET in Park City Utah, in January."
Difret, which was funded through the online crowdsourcing platform Kickstarter, chronicles the true story of a teenager from a small, rural village in the Arsi region whose widely publicized arrest for murder in the late 1990s unleashed a historic court battle that resulted in the girl's acquittal on the grounds of self-defense, legally ending the traditional practice of child marriage by abduction in Ethiopia.
"Throughout the process of making this film, you have been our tireless champions," the independent filmmakers added thanking their supporters. "You have advocated for us, wrote letters of support for us, called friends on our behalf, utilized your social media pages and donated financially to this project. We salute you and offer our heartfelt gratitude to your unyielding commitment to this project and the filmmakers."
In a press release Robert Redford, President & Founder of Sundance Institute stated: "That the Festival has evolved and grown as it has over the past 30 years is a credit to both our audiences and our artists, who continue to find ways to take risks and open our minds to the power of story. This year's films and artists promise to do the same."
Keri Putnam, Executive Director of Sundance Institute, noted, "We are energized by the rich diversity of voices, characters and places represented in the films selected for our 2014 Sundance Film Festival. Independent filmmakers continue to engage us with stories from worlds both intimately familiar and unknown."
In addition to those announced today, the Festival will also present feature-length films in the Spotlight, Park City at Midnight, New Frontier, Premieres and Documentary Premieres categories. Those announcements, as well as selections for the Short Film section and new Sundance Kids section of films for younger audiences, are forthcoming. Stay tuned for more updates.
—
Learn more about the film at Difret.com.
Join the conversation on Twitter and Facebook.