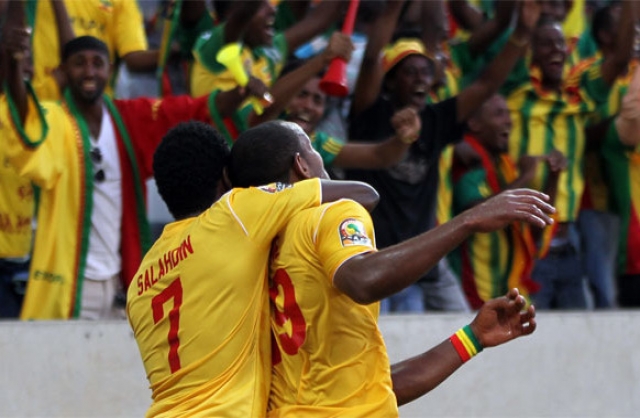 Tadias Magazine
By Tadias Staff
Updated: Tuesday, January 22, 2013
New York (TADIAS) – The Walya Antelopes, the Ethiopian national soccer team, made a historic return to the Africa Cup of Nations Monday, successfully drawing 1-1 against the defending champion Zambia at Mbombela Stadium in Mbombela, South Africa. The game was Ethiopia's first in the tournament after 31 years of absence.
Striker Collins Mbesuma scored the first goal for Zambia near half-time, and Adane Girma help equalize for Ethiopia in the second half.
Ethiopia finished with only 10 players after goal keeper Jemal Tassew was given a red card for an aggressive tackle involving Zambia's Chisamba Lungu. Jemal was taken off field on a stretcher.
His sending-off had visibly angered Walya fans, some of whom unfortunately threw bottles and other objects on to the pitch causing a security alert and delaying the game by several minutes. According to Reuters it also created a disagreement between the Ethiopian and Zambian coaches.
"The goalkeeper is there to defend," coach Sewnet Bishaw told reporters. "I do not think it was a sending-off, which is why the fans were so angry."
"They were not angry with the Ethiopian team, but with the referee." his Zambian counterpart Herve Renard responded. "I have looked at the replay and of course it was a sending- off. He had to go. The rules are quite clear, you cannot fly into an opponent like that."
The Zambian coach added: "I congratulate the Ethiopian team they played very well and it was not a surprise to me."
Ethiopia still faces Burkina Faso and Nigeria in the first round. The Walya's next match is against Burkina Faso on Friday, January 25th.
Stay tuned for more updates.
Video: Goal by Adane Girma – Zambia vs. Ethiopia (Euro Sport)

—
Related:
Ethiopia holds champion to make its point (CNN)
Zambia frustrated by Ethiopia (Aljazeera)
Ethiopia Draw Champion Zambia in African Cup (AP)
Ten-man Ethiopia hold Zambia on Nations Cup return (Reuters)
Video: Jemal Tassew takes red card and injury after foul




—
Related:
Africa Cup of Nations 2013: Ethiopia Inspired by Their Past (BBC Sport)
Bonuses Promised to Ethiopian Players (BBC)
In Pictures: Countdown to Africa Cup 2013 (TADIAS)
Coach Says Ethiopia Ready Despite Second-guessing (TADIAS)
In Pictures: Photographs of the Walya Antelopes – Ethiopia's National Soccer Team

—
Join the conversation on Twitter and Facebook.