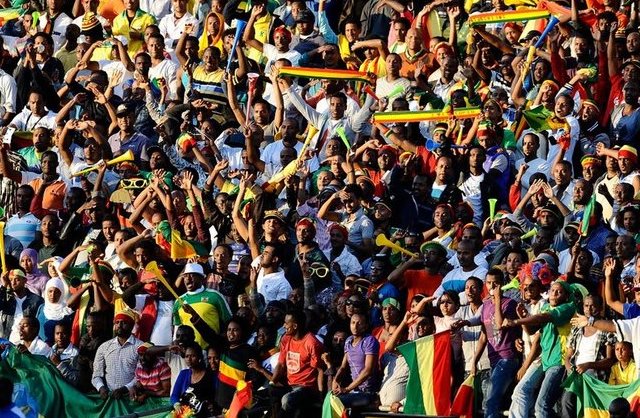 AFRICA CUP OF NATIONS
Updated: Wednesday, January 30th, 2013
South Africa (Tadias) – Ethiopia lost 2-0 against Nigeria on Tuesday in its final game in Group C at the 2013 Africa Cup of Nations in Rustenburg, South Africa, ending the team's historic return to the continental tournament after 31 years of absence.
The Walya Antelopes could not overcome the Super Eagles to book their place in the last eight for the quarterfinals. The defending champions, Zambia, were also eliminated in the first round after a goalless draw with Burkina Faso yesterday at Mbombela Stadium in Nelspruit.
The Burkinabe's lead Group C in advancing to the next stage followed by Nigeria.
Meanwhile, Ethiopian fans who made their own headlines last week for unruly behavior apologized by waving a banner during the game against Nigeria.
"We apologise for our behaviour, but we love the game" was written in huge letters on the banner against the background of the green, yellow and red colours of the Ethiopian flag. According to Reuters: "It was unfurled at the Royal Bafokeng Sports Palace during the team's final Group C match."
—
Related:
Nigeria tops Ethiopia, advances in African Cup (AP)
Ethiopia fans apologise for bad behaviour (Reuters)
Coach Sewnet Says Ethiopia Likely to Miss Top Players in Key Match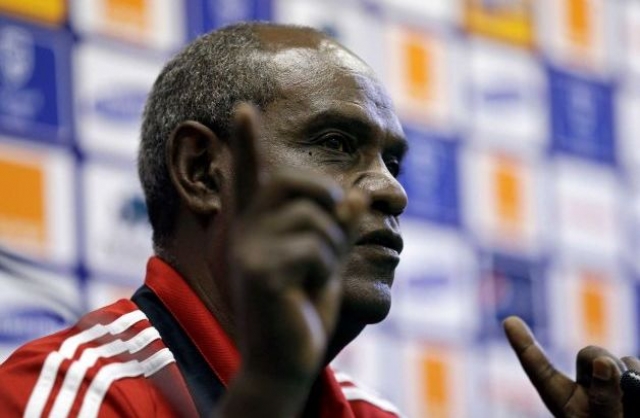 Ethiopia's head coach Sewnet Bishaw gestures during a news conference at the Royal Bafokeng stadium in Rustenburg, South Africa, Monday, Jan. 28, 2013. (Photo: AP)
By TALES AZZONI
AP Sports Writer
RUSTENBURG, South Africa (AP) — Ethiopia's chances at the African Cup of Nations have taken a hit with the team's two top players expected to miss the decisive Group C match against Nigeria on Tuesday.
Ethiopia coach Sewnet Bishaw said Monday that midfielders Asrat Megersa and Adane Girma may not recover from the injuries they sustained in the first half of the team's match against Burkina Faso.
Ethiopia is last in the group but will still have a chance of advancing if it beats Nigeria in Rustenburg.
Ethiopia is last in the group but will still have a chance of advancing if it beats Nigeria in Rustenburg.
In its first tournament appearance in more than 30 years, Ethiopia earned a surprising 1-1 draw with defending champion Zambia in the opener, then fell 4-0 to Burkina Faso after Asrat's and Adane's injuries.
"Two very important players were out and I'm afraid that they are not coming back," Bishaw said. "Adane and Asrat are not in a good position right now. It will be up to the doctor's decision before the match."
Read more.
—
Africa Cup: Coach Sewnet Says Ethiopia Looking Ahead to Next Game With Nigeria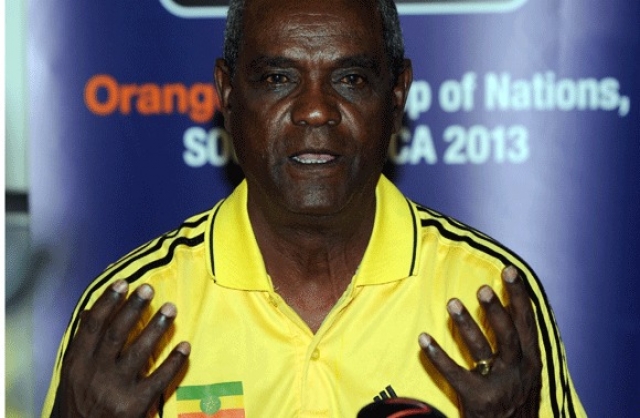 Coach Sewnet Bishaw says his team will aim for goals in its next Africa Cup clash with Nigeria. (MTN)
Tadias Magazine
News Brief
Updated: Sunday, January 27, 2013
South Africa – After a 4-0 defeat by Burkina Faso on Friday following 1-1 opener against defending Champion Zambia earlier in the week, Ethiopia will face Nigeria on Tuesday for its third and final game in the first round in Group C at the current Africa Cup of Nations underway in South Africa.
The Walya Antelopes still has a chance to advance to the quarterfinals but they must win the next match. The remote possibility also depends on the outcome of the Burkina Faso and Zambia contest scheduled for the same day.
Coach Sewnet Bishaw says he was surprised by the trouncing on Friday but promised to go on the offensive on Tuesday against Nigeria.
"We didn't expect this result from the very beginning. We hoped that we would play again like the first game and take a point against Burkina Faso," Coach Sewnet told reporters.
"We're not going to the field to defend, because defending will only give you one point. Now we must try to play against Nigeria to score goals to have three points."
He added: "Maybe if we have three points, totally we will have four points, and we may qualify to the next stage. "Not only will we just score one or two goals, we need to score lots of goals also, otherwise, it is a matter of dignity and to maintain the level of football of our boys."
—
Burkina Faso Beats Ethiopia 4-0 in African Cup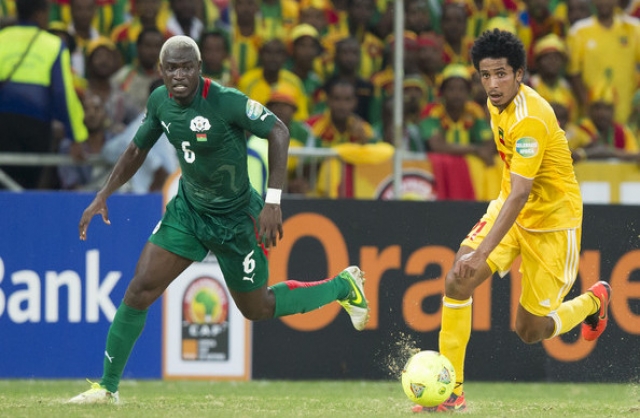 Addis Hintsa Tekle of Ethiopia and Djakaridja Kone of Burkina Faso compete for the ball during the 2013 African Cup of Nations match between their teams at Mbombela Stadium on Friday, January 25, 2013 in Nelspruit, South Africa. Burkina Faso won the game 4-0. (Gallo Images/Getty Images Europe)
Tadias Magazine
News Brief
Updated: Friday, January 25, 2013
South Africa – Ethiopia lost 4-0 against Burkina Faso on Friday in its second game in Group C at 2013 Africa Cup of Nations.
The dominant performance by Burkina Faso included two goals by Alain Traore who led the 10-man Stallions into victory over the Walya Antelopes. The third score came from Yusuf Kone on the 80 minute mark and the final by Jonathan Pitroipa at the end of the game.
This time, it is was the Burkinabe goalkeeper Abdoulaye Soulama who was red-carded. He was dismissed around 60 minutes into the match for handball outside his penalty area.
Ethiopia used substitute goalkeeper, Zerihun Tadele, in place of Jemal Tassew, who was suspended for two games following his red card last Monday during the Walyas opener against Zambia.
Matthew Kenyon of BBC Sport in Nelspruit says "Ethiopia haven't been at the Nations Cup for 31 years and this is a lesson in what happens in tournament football. It's not fair — it's presumably not fun — but it's why we love the game so much. Burkina Faso have been superb tonight and thoroughly deserve an awesome victory. Man of the match must be Alain Traore – but Pitroipa and the skipper Kabore run him close. Burkina Faso top the group."
It is also the first time the Burkinabe have ever won a game outside of Burkina Faso.
The website Super Sport noted: "Burkina's last victory in the continental showcase came way back in 1998, but Traore ended that sorry state of affairs in style to push the west African nation to the top of Group C and within touching distance of the last eight."
"With quarterfinal qualification going down to the wire, Burkina Faso take on Zambia here while Ethiopia face Nigeria in Rustenburg, with both matches scheduled for Tuesday."
—-
Related:
The Stallions silence Walya Antelopes (Yahoo News)
Burkina Faso trounce Ethiopia (SuperSport)
Burkina Faso 4 – 0 Ethiopia (BBC)
—
Ethiopia, Burkina Faso Face Off

Adane Girma of Ethiopia battles with Chris Katongo of Zambia during the 2013 Africa Cup of Nations match at Mbombela Stadium in Nelspruit, South Africa on Monday, January 21st. (Reuters)
Tadias Magazine
News Brief
Updated: Friday, January 25, 2013
South Africa (TADIAS) – Fresh off their spectacular return to Africa Cup earlier this week, after more than three decades of absence and an impressive 1-1 opening against defending champion Zambia, the Walyas who electrified Ethiopian fans around the world are preparing for their next game today against Burkina Faso at Mbombela Stadium in Nelspruit, South Africa.
For audiences in the United States the game will be televised on ESPN3 beginning at 1 p.m Eastern and can be watched on the Internet and mobile devices.
In South Africa coach Sewnet Bishaw told the Associated Press that his team's strategy is in place for today's match. "We will try to play as many passes as possible because the Burkinabes are huge and physically very strong," coach Sewnet said. "We will have a better team for the second game and use players with speed and good passing abilities."
Meanwhile, the Confederation of African Football has slapped Ethiopia's football federation with a $10,000 fine for unruly behavior by fans last Monday, which included throwing plastic bottles, cups vuvuzelas, and other objects onto the field. The organization said it will suspend half of the penalty if the Ethiopians behave for the rest of the tournament.
It all began as a protest when goal keeper Jemal Tassew was given a red card for an aggressive tackle involving Zambia's Chisamba Lungu. Jemal was taken off the field on a stretcher. His sending off started the wild outcry causing a security alert and delaying the game by several minutes. Jemal will not play against Burkina Faso on Friday as he is also suspended for two games.
According to AP: "Ethiopia drew by far the largest support base for Monday's Group C double-header, with thousands of Johannesburg-based immigrants bussing in for the occasion. Sewnet predicted that the number of fans would double for the team's next game."
Burkina Faso coach Paul Put told BBC that after Monday's performance his team can't afford to take Ethiopia lightly. "We have a lot of respect for the Ethiopian team," the coach said. "Any team that can draw with Zambia after playing against them with only 10 men after 30 minutes, that says a lot."
—-
Related:
Ethiopia aim high ahead of Burkina Faso match (AP)
Burkina Faso vs Ethiopia (BBC)
Ethiopia seek to deepen Burkina's Cup woes (AFP)
Great Start for Ethiopia at Africa Cup of Nations (TADIAS)
In Pictures: Photographs of the Walya Antelopes – Ethiopia's National Soccer Team

—
Join the conversation on Twitter and Facebook.