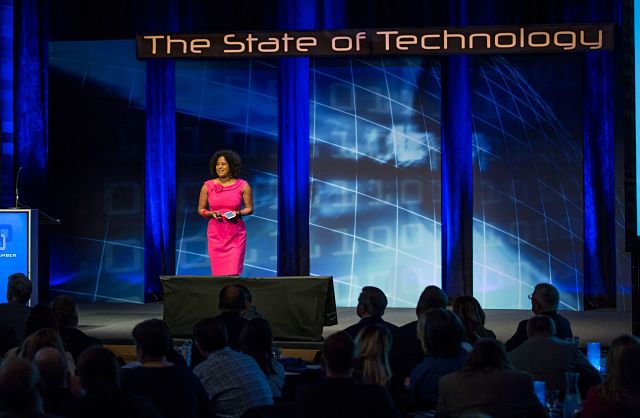 Tadias Magazine
By Tadias Staff
Updated: February 5th, 2019
New York (TADIAS) — You may remember our interview with Ethiopian children's book author Bethlehem Abera Gronneberg, a mother of three boys and a software engineer who works and lives in North Dakota. This week Bethlehem, who is now the Chief Executive Officer of uCodeGirl — a non-profit organization whose mission is to encourage young girls to aim for careers in the high-tech industry — is in Washington, DC to attend the State of the Union address on Capitol Hill on Tuesday, February 5th as a guest of the senior U.S. Senator from North Dakota John Hoeven.
"Bethlehem is doing tremendous work in the Fargo region, helping prepare young women to be the next generation of innovators and tech entrepreneurs," Senator Hoeven said in a statement. "This aligns with
our efforts to bolster STEM education and continue advancing technology as the third wave in North Dakota's economic growth." The Senator added: "That's why we featured Bethlehem's work during our State of Tech conference in 2017 and why we're so excited to have her in D.C. for this year's State of the Union address."
Bethlehem said that she is delighted by the invitation and the attention it will bring to her organization. "It is a great honor to be recognized at the national level for uCodeGirl," Bethlehem told Tadias. "Our vision is to see a world where the people who create and build technology mirror the people and societies for which they build."
Bethlehem shares that her organization "inspires and equips young women with leadership traits, computational design thinking skills, aka coding, and entrepreneurial mindset so that they can confidently chart their own pathways to economic independence and become creators of future tech innovations." She sees this invitation as "a tribute to the young women we serve. They are the heart of our program as well as the coaching and support of women professionals in STEM as mentors."
The press release from Senator Hoeven noted that "In addition to her work with uCodeGirl, Gronneberg serves on the Governor's Innovative Education Task Force of North Dakota and as an adjunct instructor of
computer science at Concordia College in Moorhead, Minn. She was recently named the 2018 YWCA Woman of the Year in Science and Technology, was honored by the Women Economic Forum, a global conference for women leaders and entrepreneurs, and was a recipient of the 2016 Bush Foundation Fellowship."
—
You can learn more about uCodeGirl at www.ucodegirl.org.
Join the conversation on Twitter and Facebook.