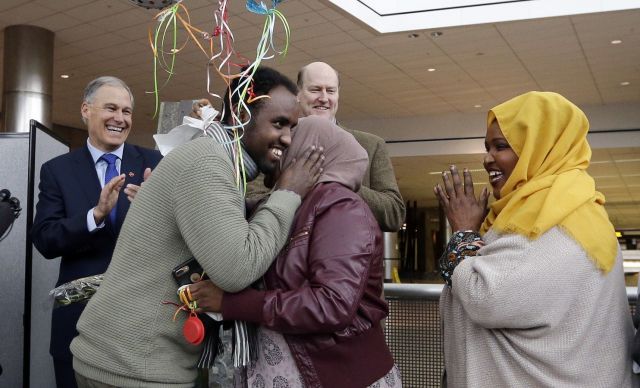 A federal appeals panel has maintained the freeze on President Trump's controversial immigration order, meaning previously barred refugees and citizens from seven majority-Muslim countries can continue entering the United States.
In a unanimous 29-page opinion, three judges from the U.S. Court of Appeals for the 9th Circuit flatly rejected the government's argument that suspension of the order should be lifted immediately for national security reasons, and they forcefully asserted their ability to serve as a check on the president's power.
The judges wrote that any suggestion that they could not "runs contrary to the fundamental structure of our constitutional democracy."
The judges did not declare outright that the ban was meant to disfavor Muslims — essentially saying it was too early for them to render a judgment on that question. But their ruling is undeniably a blow to the government and means the travel ban will remain off for the foreseeable future.
—
Related:
Former Peace Corps Director in Ethiopia One of US Judges Reviewing Trump's Ban
In Divided America, US History Has Become Weapon for Trump Fans & Critics
To the World Trump's Immigration Ban is Contrary to the Idea of America
State Dept. Dissent Cable on Trump's Ban Draws 1,000 Signatures
Watch: AS PROTESTS GROW, TRUMP'S IMMIGRATION BAN PROVOKES CRISIS
Join the conversation on Twitter and Facebook.
Join the conversation on Twitter and Facebook.