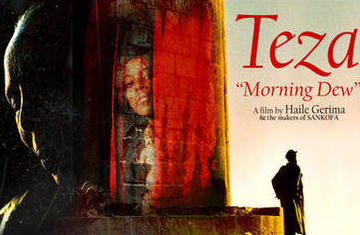 Above: Haile Gerima's latest film Teza will make its New York
premiere at Lincoln Plaza Cinema, on Friday, April 2, 2010.
Tadias Magazine
Events News
Published: Tuesday, February 16, 2010
New York – After a successful, eight-week theatrical engagement in Washington, D.C., Mypheduh Films, Inc. is pleased to announce that TEZA, the latest release from world-renowned, Ethiopian born, independent filmmaker Haile Gerima, and the makers of Sankofa, will launch its New York City exhibition at Lincoln Plaza Cinema, on Friday, April 2, 2010.
TEZA, "morning dew" in Amharic, is Gerima's eleventh cinematic production and seventh dramatic film, and tells a story of hope, loss and reminiscence through the eyes of an idealistic, young intellectual, displaced from his homeland of Ethiopia for many years. The film reflects well on the effects of the fall of Emperor Haile Selassie on Ethiopia's history and society, and through a broader lens, TEZA focuses on the ways in which political upheaval and social change have impacted cultures and nations across the larger African Diaspora. Due to the discourse on critical issues it engenders and its exquisite visual tableau, TEZA is an unparalleled work of social activism and cinematic art.
Told mainly through a series of flashbacks, TEZA follows the personal narrative of Anberber (Aaron Arefe), who after leaving Ethiopia for Germany to become a doctor, is led to return to his home village by lingering spirits and haunting visions from his childhood. Using the power of memory as his primary device, Gerima recounts the historical circumstances that have framed the context in which contemporary Ethiopia exists.
Video: Watch the Trailer

TEZA has been recognized with over 20 coveted international awards, such as the Oscella Award for Best Screenplay, the Leoncino d'oro Award, SIGNIS Award, and Special Jury Prize conferred at the 2009 Venice Film Festival; the Golden Unicorn Award for Best Feature Film bestowed at the Amiens/France International Film Festival; the UN-World Bank Special Prize; and Golden Stallion award for Best Picture presented at the 2009 FESPACO Pan-African Film Festival. Leading up to its September 2009, U.S. premiere, the Washington Post called TEZA, "Gerima's powerfully universal meditation on the loss of his homeland – on the inevitability of loss in general."
Called "one of the independent cinema's chief chroniclers of the African-American and African Diaspora[n] experience[s]," by Variety, Gerima has taught film at Howard University in Washington, D.C. since 1975, and has been producing independent films of distinction for over 35 years, including his groundbreaking 1993 film Sankofa. This historically inspired dramatic tale of African resistance to slavery was called "poetic and precisely detailed" by the New York Times. Gerima's earlier works include the films Harvest: 3000 Years, which Martin Scorsese described as having, "a particular kind of urgency which few pictures possess"; and Bush Mama, which the Washington Post reported, "crackle[d] with energy," with "fury shak[ing] the very frame."
Reflecting on his latest work Gerima stated that, "an imaginative oral legacy shapes TEZA'S narrative," and that, "the film recounts the stories of Ethiopians dislocated by series of complicated and unanticipated historical circumstances." He also conceded that, "TEZA is semi-auto biographical, a microcosmic portrait of reality reflecting [his] search for the Ethiopia of [his] youth which exists only in [his] memory and dreams." Through TEZA Gerima invites moviegoers to examine their own notions of nationhood and identity, the construction of memory and the ways in which memories are connected to space and place.
–
If You Go:
TEZA opens in Manhattan on Friday, April 2nd 2010, at Lincoln Plaza Cinema, 1886 Broadway (at 62nd Street).
TEZA will also soon open in Hyattsville, M.D., at Regal Entertainment's Royale Stadium 14: 6505 America Blvd. The film will be on exhibit for a one-week limited engagement, beginning February 26th and ending March 4th. Show times are as follows: Fri., Sat. & Sun. at 11:30AM, 2:30PM, 5:30PM and 8:30PM; Mon., Tues., Wed., Thur. at 1:00PM, 4:00PM, 7:00PM & 10:00PM. Admission prices are: Adult $10.50 ($8.50 before 6 pm), Child $7.50, Seniors $9.50, Student $9.50 and Military $8.50. Advance tickets available through www.fandango.com.
Source: www.TezaTheMovie.com
Related from Tadias Magazine
A Conversation with Haile Gerima